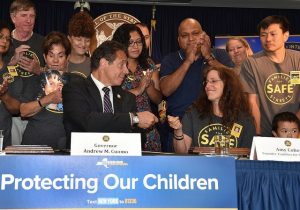 After four years of heroic advocacy by Families for Safe Streets and Transporation Alternatives, and a Hail Mary save by the joint efforts of Governor Cuomo and Council Speaker Corey Johson, the new Albany legislature has finally adopted a sensible package of bills to allow more speed cameras around schools.
The increase from 140 to 750 is a giant step and the expansion in hours from school hours only to 6a.m. to 10 p.m. and the cameras can now be placed within a 1/4 mile radius from each school, allowing them to operate at the dangerous locations where students and local residents have to cross. Thank you to Assembly member Dick Gottfried for his strong support to this common sense legislation. Speed cameras have proven to save thousands of lives in all countries and cities where they have been used.
There are now 140 cameras installed in New York City. The bill passed today would expand the speed cameras program to 750. There are roughly 1,700 schools in the City.