Clinton Hell's Kitchen Chelsea Coalition for Pedestrian Safety (CHEKPEDS) was founded by residents and community leaders in September 2005, to reclaim 9th Avenue from the hellish Lincoln Tunnel traffic. The coalition grew rapidly with Businesses, Institutions and Property Owners joining in to correct the dangerous conditions in the neighborhood: pedestrians risk their lives crossing the streets, children cannot safely walk to schools; residents cannot breathe or sleep; public transportation is ineffective; local stores experience slow and costly deliveries; personal safety is at risk. Watch the Video.
The coalition works directly with elected officials, city agencies, the Port Authority of New York and New Jersey, business associations, Business Improvements Districts, local institutions, and Manhattan Community Board 4 to obtain crucial traffic relief and pedestrian safety measures locally and citywide.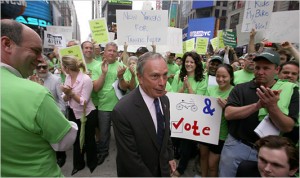 Many local improvements sought by the coalition can only be achieved through city-wide or state-wide policy changes. The coalition works closely with citywide advocacy organizations and other community boards to effect such changes. Read the May 2006 coalition's letter to Deputy Mayor Dan Doctoroff and his response.
Our goals (from 2005)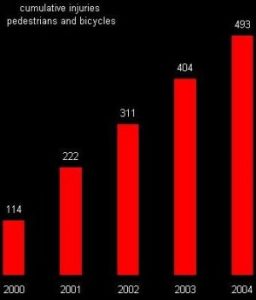 REDUCE INJURIES and SAVE LIVES
there were over 500 pedestrian injuries in 5 years on 9th Avenue. Eleven intersections have become two to three time more dangerous. Holy Cross is the most dangerous school for children to walk to in Manhattan. EMS and FIRE vehicles cannot go through.
IMPROVE our HEALTH
We have 25% more deaths from chronic lung diseases than in the city overall. In fact there has been a 71 % increase in complaints about the air quality in 4 years.
STOP the GRIDLOCK, STOP the CONGESTION, REDUCE the volume of TRUCKS and BUSES
Ninth Avenue corridor between 35th and 46th street has the second highest number of truck accidents per mile in Manhattan.
Our Campaigns
Pedestrian safety
Clean Air, Congestion
Complete Streets
Traffic Justice
Transit
Our Successes / On the ground
Relocation of Bolt Bus terminal to 33rd Street between 11th and 12th Avenues
Trailing green turning light at 42nd street and 9th Avenue on south crossing
Bike share stations all on parking spaces, no loss of pedestrian space
Greening of Dyer Triangle, 35th / 36th, 9th and 10th Avenues
Three bike corrals on floating parking lane on 9th Avenue to clear sidewalk congestion
Pedestrian count down on 8th and 9th Avenues
60 pedestrian refuges with 8th Avenue protected bike lane 34th to 58th Streets, and 9th Avenue protected bike lane 34th to 58th Streets
Relocation of Megabus Discount buses to 34th Street between 11th and 12th Av
Closing of Edison parking exit on 43rd Street ( 8th / 9th)
40 additional curb side parking spaces for tour and charter buses
Feathering down of traffic on 9th Avenue
More time to cross the streets at 37th, 41st and 42nd and 9th, 43rd, 44th, 45th, 46th, 47th Streets and 9th Avenue
17 seconds head start (LPI) at Dyer Avenue and 34th Street
Traffic light at Holy Cross School, 43rd Street between 8th and 9th Avenues
Four speed bumps on 17th Street between 8th and 10th Avenues for Fulton House families
Hess sidewalk redesign (44th – 45th at 10th Avenue) to improve PS 51 children safety
15th and 16th Street sidewalk redesign between 8th and 9th Avenues, to improve pedestrian safety
Reopen 39th and 41st Streets to traffic
Remove postal trucks from 9th Ave
Traffic controllers at 42nd and 9th Ave
Traffic controller at 40th and 41st Streets
Traffic controllers at 37th and 9th Ave
Traffic controllers at Dyer Avenue and 34th Street
Greening of Hell's Kitchen South (with HKNA)
Our successes / Strategic
9th Avenue Renaissance vision for the neighborhood Supported by CB4
DOT Transportation Study of Clinton Hell's Kitchen funded and underway (Solutions Phase)
Pedestrian Safety Town Hall
Bus Idling Town Hall
Pedestrian Memorial March
Hudson Yards / Hell's Kitchen Alliance BID
Our Successes / Legislative
Gridlock enforcement laws
Crash reporting law
Summons reporting law
Idling around school law
Tour bus loudspeakers law
Congestion Pricing !!!!!
Parking placards reduction
Hudson Yards Parking Zoning amendment (with HKNA)
Long distance bus legislation
Our Members
9th Avenue Association • 43rd Street Block Association • 44SW • 44th Street Block Association • 45th Street Block Association • 46th Street Block Association • 47/48th Street Block Association • 55th Street Block Association • 344-348 West 38th Street Tenants Corp. • Actors Temple Theater • American Home Hardware & More • Baryshnikov Arts • CandleWood Suites Times Square • Center B Studio LLC • Basilica • Brazil Brazil • Chimichurri Grill • Clinton Housing Development Corp. • Community Development Venture Capital Alliance • Costa del Sol • Cupcake Cafe • Delphinium Home • Dermot • Domus • Econolodge Times Square • Empire Tailors & Cleaners • Fresh Cut Flowers • Galaxy Diner • Gigi Stoll Portraits • Hampton Inn times Square South • Hartley House • Hell's Kitchen Neighborhood Association • HK Restaurant • HK50/51 Block Association • Holiday Inn Times Square • Housing Conservation Coordinators • Hudson Crossing Tenants Association • Il Punto • International Foods • J.Seffens Studio • John & Tony West • L' Allegria • Larissa Designs • Manganaro's Food • Manhattan Plaza • Metro Bicycle Stores • New Dramatists • Nice N Natural • Orion Condominium • PetsNYC.com • Piccinini Brothers • Poseidon Bakery • Project FIND • R/GA • Revolution Rickshaws • Rockrose Development • Sea Breeze • Sunnyside Records • Smiley • Sonja Wagner Gallery • St. Lukes Theater • Studio LLC • Tagine • Tartare • The Ritz • The Piano Factory • Thrift & New Shoppe • Trattoria Pesce Pasta • Vintner Wine Market
Our Board
Martin Treat, Co-Founder, Chair, HK
Christine Berthet, Co-Founder, HKS
Ernest Modarelli, Vice-President, HK
Kathleen Treat, Secretary,
Steve Belida, HK
Huong Hoang, HKS
Barbara Eastman, HKS
Matt Green, HK
Pat Hooper, HK
Michael Huarachi, HK
Lisa Orman, UWS
Allen Oster, CH
David Solnick,HK
David Warren, HK
Chana Widawski, HK

CHEKPEDS is a New York State Charity and a 501 (c)(3).