HKNA, CHEKPEDS and the surrounding buildings joined together to reclaim a desolate motorcycle parking in the middle of Dyer Avenue and make it a green plaza.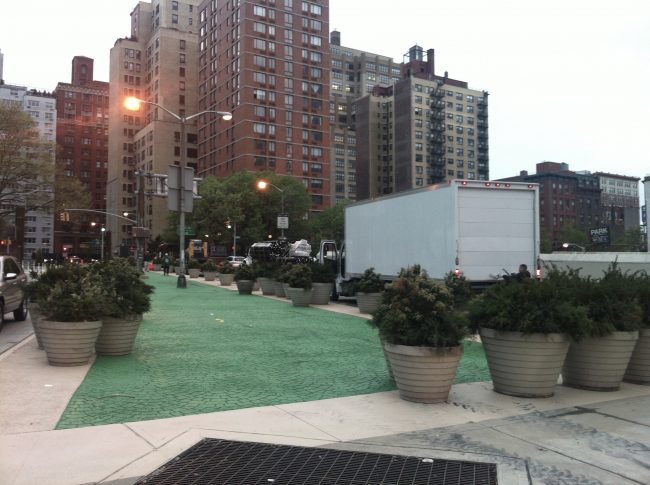 This is an interim installation between 35th and 36th Streets, as part of the greening of Dyer Avenue, which will take place in three phases. The canoe installation ( 36th Street between 9th and Dyer Avenues) should take place in June 2013 and the Dyer Park section (between 34th and 35th Streets) has been postponed to 2016. To learn how the plaza was installed, click here to see the two-minutes movie "The making of Dyer Avenue Plaza". This is the first open, public plaza in Hell's Kitchen.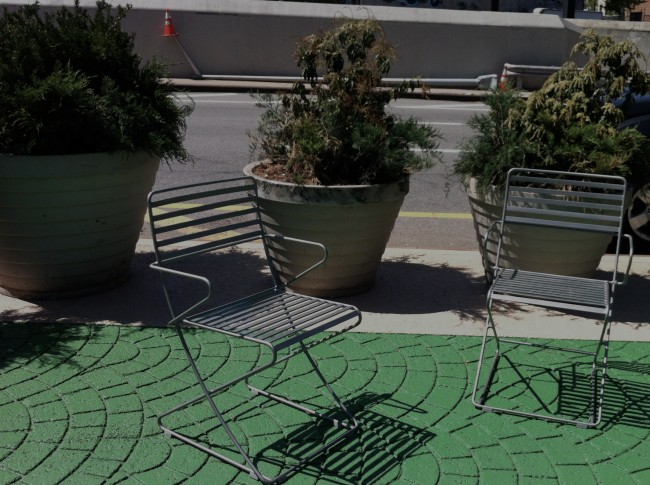 The motorcycle parking has been relocated to the north of the triangle on Dyer Avenue and to spaces adjacent to the bike corrals on 9th Avenue.
The furnishing is  sparse but more is coming. We could not be more delighted by this addition of green space in a part of the neighborhood which is so hostile to pedestrians. Already plaza users report that the honking has abated as if the drivers knew they now have to share the space. During non peak hours, the traffic is fairly light, and the midtown views are stunning.  Check the movie to see it all.
See below the parking as it used to be.