Last night, Community Board 4 approved relocating Bolt Bus on-Street terminal to the Northwest corner of 33rd Street and 11th Avenue from its current location at the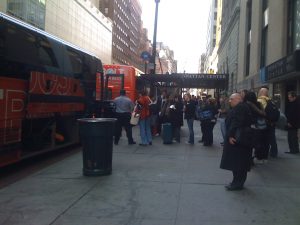 Northwest corner of 34th Street and 8th Avenue, where it will be in the path of the M34 SBS. This relocation will also allow  Bolt to split the 33rd and 7th Avenue stop between the east side and the west side. There will be a peak of 52 departures and as many arrivals per day on the West Side.
The Department of Transportation (DOT) notified the community 45 days in advance, and presented their preference to locate the stop at 39th Street and 10th Avenue. The community strongly opposed this location, adjacent to a community garden and dog run, dangerous for pedestrians,  with too little space for queuing and with an inconvenient ingress and egress for buses. Instead the Transportation Committee suggested less intrusive locations including the one at 33rd Street and 11th Avenue, which the applicant accepted.
It is a great victory with many people to thank , Walter Mankoff and Brett Firfer who made the first inventory of Long Distance Buses over 4 years ago, our neighbors who spoke up having seen their quality of life degraded by these operations, CHEKPEDS members who worked to pass the law,  Assembly Member Dick Gottfried adn TSTC, Dan Pisark and Dan Biederman of the 34th Street Partnership who kept the pressure with the DOT .
Indeed we continue to consider these terminals as interim solution , and to advocate for the Port Authority to build a new bus terminal/garage , as committed in the 2005 Hudson Yards Rezoning .
This shows that the law is accomplishing what it intended to: to eliminate illegal stops and give more say to the community in placing curbside bus terminals.
Next battle is to relocate the numerous jitneys idling on 42nd Street, which for the most part do not have a permit. Let us know if you want to help David  who is taking the lead on this .