While the vast majority of buses come and go to the Port Authority, they are not the only ones to be a major health and safety hazard to our community.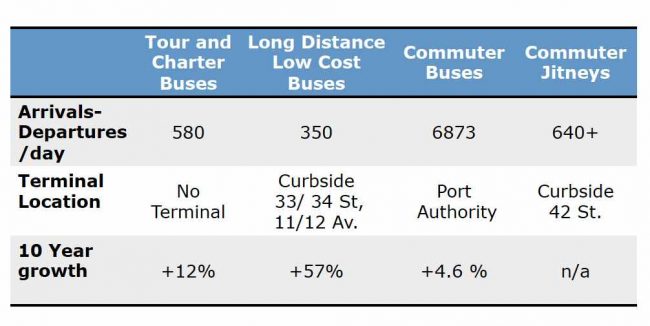 It turns out that Chekpeds and CB4  have developed a repository of intelligence on buses  unique in the city since no single agency is responsible for all aspects of this fast developing mode of transportation. CB4 hosted a meeting of the Department of City Planning , DOT , PANYNJ, the Highline and Hudson Yards developers who recently discovered the problem of Buses in our neighborhood. Click Here to see the full presentation. CB4 Transportation Chair is also working with DOT to relocate jitneys from 42nd Street, not a simple task.
We really hope City Planning will take ownership of a problem that has sorely lacked strategic and tactical planning and has reached crisis proportions. Parking buses is indeed much more critical to our economy and more urgent than parking cars.