CHEKPEDS has learned that Speaker Corey Johnson and Transportation chair Ydanis Rodriguez are working on a legislation to ensure the orderly inclusion of electric scooters in the New York Transportation options.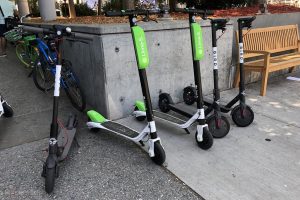 These appliances which look like a children 's toy have showed up in various cities and caused consternation with pedestrians as described in this article "What ends up on the Sidewalk".
In  a letter to the speaker, CHEKPEDS recommends a four-part  approach to legalizing scooters and dock-less bikes: 
Create parking for these vehicles in

the Parking lane

. Let the operators fund and maintain these parking spaces.
Allow only scooters designed for a maximum speed of 10 mph.
Increase enforcement of illegal use of all vehicles including scooters; in particular riding or parking on sidewalk and going the wrong way should get increased penalties.
Convene a task force to study sidewalk encroachments and resolve the multi-agency conflicts as well as propose sidewalk enlargement.
We look forward to hearing your comments  below..