After the loss of two cyclists in our district in June, Council Member Johnson and CB4 asked for and obtained separate meetings with DOT and NYPD.
DOT's COO was on hand to clarify the procedure related to approval, management and  renewal of bus operations.
It turns out that DOT does not take in account historical bus safety information when granting a stop permit. This is something CB4 has long requested and currently evaluates as part of its due diligence.
The approved routes are currently not clear to bus drivers since there is only a truck map and it does not explicitly mentions that buses must respect the same routes ( although the law is clear on the subject).  DOT committed to publish a new map for buses.
DOT also agreed to toughen their stance with bus companies upon receiving complaints from the community, and be  diligent in not renewing the permits if the companies have received NYPD summonses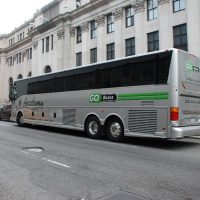 Indeed one of the fundamental issue is that our city does not have a terminal for long distance buses, like other large cities do (Washington, Boston) . As a result they park at curb side everywhere in the city, thus encouraging buses to illegally use residential streets to reach their stops. This is why CB4 makes every attempt to have bus stops on the far west side an recommends the construction of a Long Distance bus terminal there as well.