With the summer finally taking hold, there is no shortage of greening , planting and park designing going on in the neighborhood. Here are some new additions as well as design in progress you can join.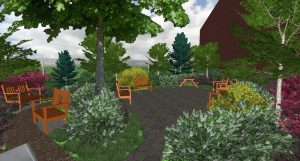 Shanti Nagel is leading the efforts to reopen the 39th Street park , formerly known as the "Bird Park. This property leased by the Port Authority to HKNA is currently closed due  to construction next door.
39th st Park Community Design Meeting
Thursday, May 30th, 6:30pm
403 west 40th st, 212-967-1644
We Need Your Help! Join us to review the design for 39th St park (located close to corner of 9th ave), add your own comments and discuss next steps. We're getting close to action!
Have your say in the redesign of Mathews Palmer Park. ( between 9th and 10th Avenues, 45th to 46th Streets).  With special thanks to our Council Member Christine Quinn, who allocated $1.8 million for park renovations – and YOU get to share your dreams and vision for YOUR community space!  Want more green space?  adult fitness equipment?  tire swings?  game tables?  a super cool slide?  PLEASE  SHARE YOUR ideas! with the 45th Street Block Association. ALL AGES – adults, seniors, kids…..Everyone's input wanted!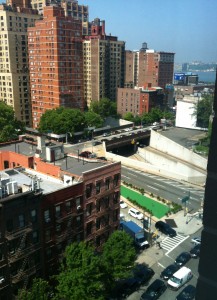 HKNA and CHEKPEDS partnered to bring to life a new Dyer Triangle Plaza (for lack of a better name) between 9th and 10th Avenues, 35th and 36th Streets. Although it is only paint, planters and a few chairs, it brightens surrounding residents' views . This  is only the first step in greening this area; next to come are trees , tables etc..  Please let us know anything you would like to see happening on this plaza.
What if you want it right on your street ? not to worry there are programs for that : DOT's Pop Up Plaza program allows you to swap one or more parking spaces for public seating . The Play Streets program allows you to close the street and convert it in a playground or more. And you can always decide to order a bench in front of your favorite place.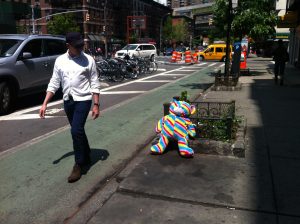 In any cases NOW is the time to Inventory tree stumps and dead trees that need replacement, or new trees you would like to see planted in the fall. The Parks department goes to contracts with specific locations at least four months before each planting season in May and October. Call 311 with the information AND send an email to Council Members Quinn's office: Harriet Sedgwick <hsedgwick@council.nyc.gov>.