The Hell's Kitchen South Community will hold a critical Town Hall meeting to learn more about the recently announced expansion and redevelopment of the Port Authority Bus Terminal
Port Authority Bus Terminal Design – Town Hall
Monday, April 18, 6:30 – 8:00 p.m.
410 West 40th Street (9/10)
All of the current proposals will have a major impact on the fabric of the Clinton/Hell's Kitchen Community.  The Port Authority proposes to demolish 3 block-fronts on 9th Avenue, in the heart of the neighborhood, wiping out hundreds of apartments, small businesses, community organizations and houses of worship. The plans also propose to move the bus terminal to the residential portion of our neighborhood, between 9th and 10th Avenues, in order to maximize their real estate assets on the commercial corridor of 8th Avenue, thus hurting both commuters and residents.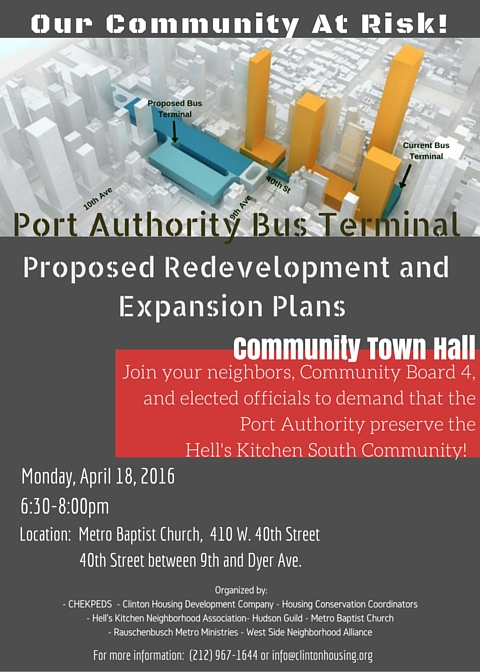 Join your neighbors to demand that Port Authority preserve our neighborhood and respect our community!  It has been 6 months since the Port Authority Board announced a design competition and capacity study, guaranteeing a strong community involvement! It is time for the community to speak up and for the Port Authority staff to listen and take notice.
For an in-depth look at the competition , click Here.
Whether you attend the meeting or not, it is critical you fill out the survey, which asks about "property acquisition", the process by which the buildings would be destroyed.