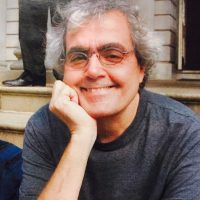 Celebration of Bob's Life
Saturday, May 4th, 2019, 2p.m. to 5 p.m.
Hartley House
413 W 46th St, New York, NY 10036
Robert Paul Kalin
(February 28, 1954 – January 22, 2019)
A quiet and humble person, he never sought, nor wanted recognition for the work he dedicated his life to. His presence in our neighborhood will be deeply missed.
Bob Kalin, worked at HCC for 40 years. He was employed as a long time tenant organizer and advocate for low-income tenants in Hell's Kitchen. Sadly, he passed away on January 22, 2019.
Throughout the years, Bob trained dozens of tenant organizers at HCC, housing advocates and tenants throughout the City. He also developed a viable 'plan of action' to help elderly tenants clean out their cluttered apartments to avoid evictions. Bob worked tirelessly – advocating for generations of Hell's Kitchen tenants and their families to prevent eviction and get needed repairs. He was well known for his activism in the tenant community and was a strong advocate of tenant rights. Bob was unrelenting in the fight to preserve affordable housing in our neighborhood.