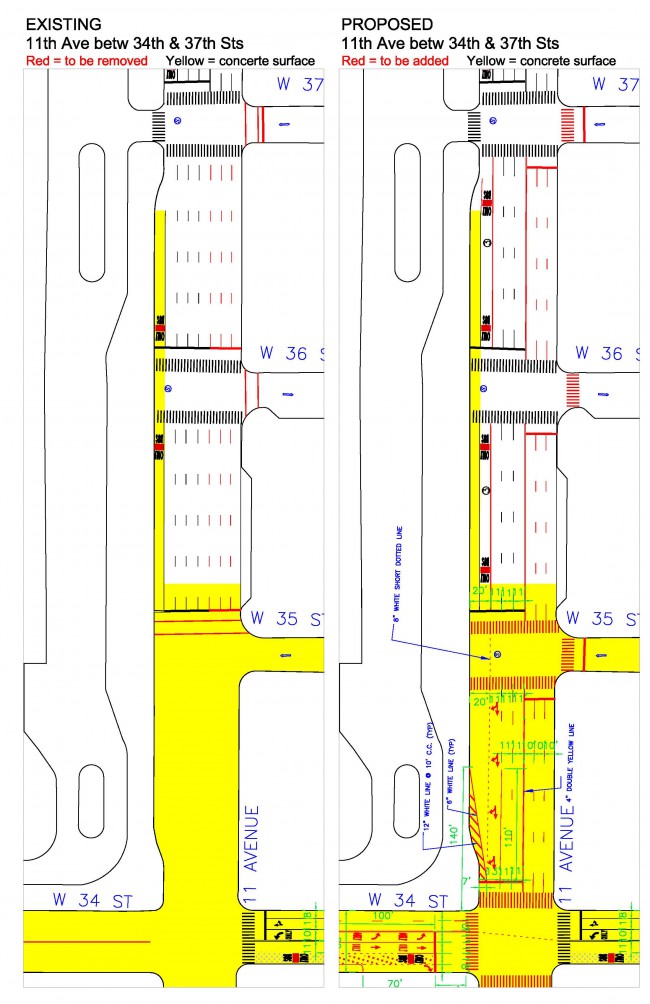 Finally ! Once again , 11th Avenue goes in both directions between 34th and 40th Streets, allowing 9th and 10th Avenues to get relief from Lincoln tunnel- bond traffic congestion.
The Department of Transportation effected the changes last week and will add high visibility cross walks this week. An LPI has also been added at 37th Street where a turning driver killed a pedestrian last year. A bus lane is installed.
The two-way configuration had been put in place after 9/11 to screen trucks entering the Lincoln Tunnel. It turned out to be very effective to balance the traffic on 9th ,10th and Dyer Avenue .  However when the road was reconstructed five years ago, only the portion of 37th to 40th was restored as a two ways avenue; 34 to 37th was set as one way with two lanes essentially used by the Convention Center and the NYPD as perpendicular parking, while 10th Avenue was extremely congested.
DOT intends to extend the two way-section down to 23rd Street, once the Western Rail Yards development is completed and make it more pedestrian friendly.
This is great news for all . Our next step will be to ask DOT to install way-finding signs on the cross streets so that more tunnel-bond drivers use this entrance and reduce the congestion on 9th and 10th Avenues.