Improving bus service in New York city is a key prerequisite to the success of congestion pricing . From giving more commute options to residents who live in transit deserts, to speeding up the current buses in Manhattan, this is a priority for both MTA and DOT.
DOT recently announced its " Better Buses Action Plan – 2019" where the  M42 has been selected as one of the first corridors to be improved. Features will include painted dedicated bus lanes, priority signals for buses, and restricted or signalized left turns, as well as delivery bays for long distance buses and business deliveries.
A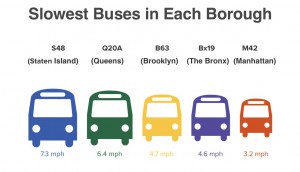 nyone who has ever tried to cross 42nd St. on a bus will not be shocked to learn that the M42, running from river to river, is the "Pokiest" bus in town. It runs a staggering 3.2 mph, enough to win for the fifth time in the 15-year history of the awards and draw an unflattering comparison."3.2 miles an hour, slower than a chicken, which runs at up to nine miles an hour. So much, much slower than a chicken runs, does the M42 move," said Jaqi Cohen of the Straphangers Campaign.
It is very good news for our neighborhood, where so many seniors depend on the bus and so many residents live on the far west side and use shuttles to connect to the subway. This could really make a dent in the shuttle congestion on the corridor.