As part of the Participatory Budgeting, every resident of Chelsea and Hell's Kitchen who is older than 14, can now vote for a capital project that will be built in our district. Voting will take place from April 11 to April 19. Click here for voting hours and locations

By voting for the project called "Raised Pedestrian Crossing" you have the power to usher our residents in a new era of pedestrian safety and comfort.
Last week we presented the project at the PB expo attended by more than 100 visitors and our Council Member.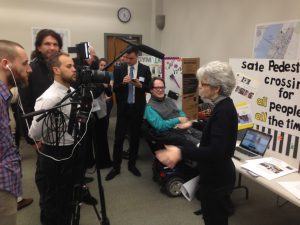 It was a great opportunity to hear the public comments which were overwhelmingly positive. Martin Treat was on hand to answer questions.
CLIK HERE for a flyer you can print and distribute to your neighbors with voting locations and hours.