As bike lanes may be extended to the north , we can expect more bike traffic and more bike parking on the sidewalk . On some blocks the situation is already overwhelming .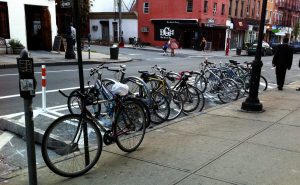 With the bike lanes DOT is now offering a new option : on street bike parking, relocating bike racks from the sidewalk to the street, where a parking space can accommodate up to 10 bikes! This is a brand new option that has been installed in Brooklyn and should allow pedestrians to reclaim sidewalk space .
If an avenue block  has a high volume of bikes , let us know. Where exactly should the bike parking be installed and which business has agreed to  sweep the bike parking space and maintain it clean ( the business can be different from the one facing the parking).  A form letter to be signed is attached here .
The on-street bike parking may be located at the street corner on the street, or in the middle of the block on the east side of 9th Avenue or the west side of 8th Avenue, where the bike lanes would be installed. When located at the street corners where vehicles turn, the on street bike parking doubles as daylighting, a technique to improve visibility to turning cars and in turn to make pedestrian crossing safer.
Let us know as soon as possible (on Wednesday the 21st, at the Transportation Committee is best )  so that we can submit the locations to the DOT. You may provide the information in the comments below , and send the signed agreements by pdf to excom@chekpeds.com or fax it at 212 504 8387.
To avoid confusion please submit your answers in the following format :
Which block has many bikes  ( street or avenue , between which streets or avenues)
How many bikes are parked regularly on that block
Where would the parking be located ( street corner  or middle of the block)
if Street corner , which one ( NE, SE , NW, SW)
Is it the corner where vehicles turn?
if middle of the block, what is the exact address and what business is it facing ( or other identifying element) ?
Which business has agreed to maintain the parking ( business name address, phone, email, name of the person who signed the agreement) .
You can always email at excom@chekpeds.com for clarifications.