Over the last month the City accelerated it use of street space to help pedestrians keep their distance from each other  and restaurants resume their business in a viable way.
Many more streets were open to the residents as "Open Streets" in the City. This  gives priority to pedestrians by limiting speed to 5 mph. and curtailing through traffic. Residents get a front yard and a respite from their crowded apartments . In our district the following blocks have been " open" :
W 17th Street – 8-11
W 21st Street 9-1o
W 22nd Street 7-8
W 25th Street 8-9
Hudson Boulevard  East and West W35- W36
W 44th Street 9-10
W 46th Street 8-9
W 51st Street 9-10
We understand that more will be announced in July . Click on the map to see all the open streets in the city and how to apply for an open street. 
The format works really well, except if bars are located on the same block. The combination of Open Streets and the sales of alcohol in open containers  – allowed because of COVID 19 – has caused excessive concentration of  patrons who drink illegally in public. This affects both open streets and the sidewalks on 9th Avenue.
"Open Dining" is another initiative of the Mayor to help restaurants to reopen while  complying with the distancing rules . A self certified application has replaced the sidewalk cafe process, allowing for a fast turnaround. The restaurants can set up table and chairs both on the sidewalk adjacent to the building , and on the parking lane. It has generally worked well creating a festive outdoor atmosphere new to the city . Click on the image for more details and application form.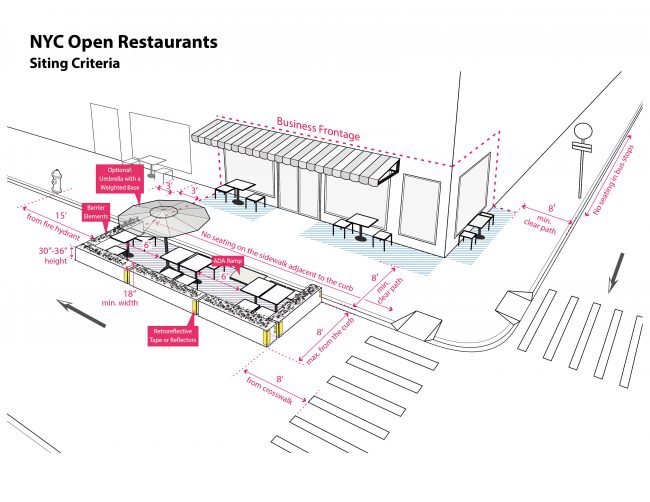 Unfortunately, the city failed to adjust the  8ft pedestrian right of way to incorporate the Governor's and Health Department 's COVID requirements of 6 ft spacing. This makes for an unsafe situation for both diners and pedestrians who must coexist – with or without masks- in a very tight space.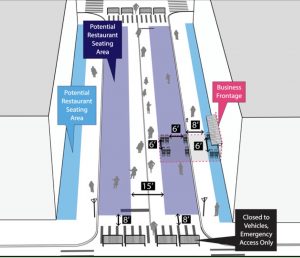 Finally the program "Open Streets:Restaurants" allows a group of restaurants on a commercial corridor to "Open the street" on the week end and set up outdoor tables using the same guidelines as  Open dining. In this case, pedestrians have 15ft of space to walk and distance in the middle of the road . Restaurant Row in our district was the first of such streets. Click on the drawing to see all the details .
Overall, this is a welcome change to street use. We would all rather see the space used for pedestrians and more restaurants, more jobs and the revival of the economic instead of the dead weight of cars stored for free on public space.
If you encounter problems, here is a quick menu to help you file a complaint: Click on the image