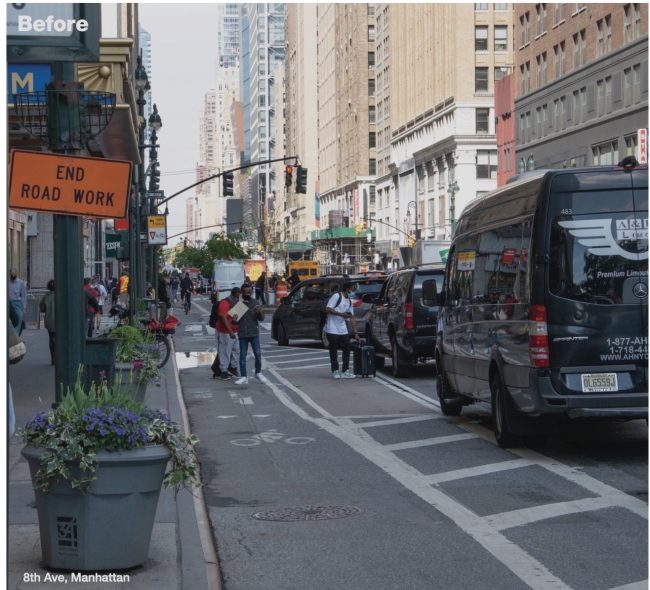 The City Council held hearings on various bills to improve pedestrian safety. Two of them sounded particularly effective:
On this occasion, first DOT released its updated Pedestrian Action Plans which boasted a 24% reduction in crashes in the corridors that have been fixed, like 8th Avenue corridor.
Jumaane Williams' Intro 0805 – 2022  on pedestrian safety reporting would require the DOT to report on their efforts every 3 years instead of current 5 years. We suggested that the Pedestrian Action Plan should include the list of the 150 objectively most dangerous intersections that must be completely fixed during the following three years (50 per year) with a description of the methodology used to select those intersections. 
To improve accountability and communication, Community Boards and Elected Officials would receive the list including an estimated date for the fixes.
Annually DOT would describe what remedies were applied individually to each of the 50 intersections and the community boards might provide a rating of the improved safety. 
Selena Brooks Power's Intro 0854-2022  for daylighting would have DOT install a number of " no parking" spaces at the intersections to improve the visibility of pedestrians and cyclists for turning vehicles.
The legislation would see better results if it prescribed how to use this freed space. Instead of providing illegal parking for trucks – which often happens in these spaces, the law should ensure that lines of sight remain clear: for example, neck downs to give pedestrians a shorter crossing, and bike or bike share stations.
To prevent further worsening of the current situation, the bill should also bar DOT from installing new parking regulations or permanent installations in the first two parking spaces at the intersections. Deliveries and carshare are only two examples of current programs. The only new regulations that DOT could add would be bike share or bike parking which do not obstruct the line of sight.