Three weeks ago (it seems like an eternity), Sam Schwartz Engineering published jointly with America Walks a complete guide on how to improve the environment for pedestrians.  This is quite a breakthrough to have one of the better known transportation engineers in the US  (Gridlock Sam) take on the perspective of the pedestrian and apply its engineering savy to the subject.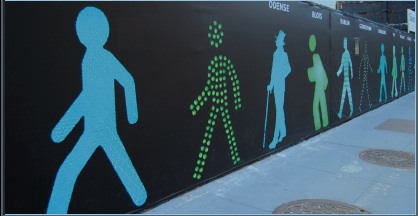 You  will probably remember that Sam Schwartz has worked with CHEKPEDS over the last four years to help us and the DOT design street changes to improve our community's  walkability .
Click Here (be patient it takes a while to load)  to consult the guide and sample features that could help in your street. For example lately , the DOT has been very prompt to install benches, and speed bumps. If you have a location where you would like to see these features please email us or write a comment below .
This gives some hope that the rest of the engineering community will follow in this path and walkability becomes a hot field of study. Only when the engineers see the streets like pedestrians, will we see rapid improvements in safety and walkability.