This  week Mayor Bloomberg announced the Reinvent Payphones Design Challenge, a competition to rally urban designers, planners, technologists and policy experts to create physical and virtual prototypes that imagine the future of New York City's public pay telephones. The goal of Reinvent Payphones is to foster innovative, data and design-driven ideas that will help modernize payphone infrastructure across the five boroughs and optimize use of public space once the City's current payphone contracts expire in 2014.  The prototype application have to be submitted for consideration by February 18, 2013 and 15 semi-finalists will be selected to demonstrate their ideas at the Reinvent Payphones Demo Day on March 5, 2013.
This suggestion was part of your recommendations and we cannot thank enough our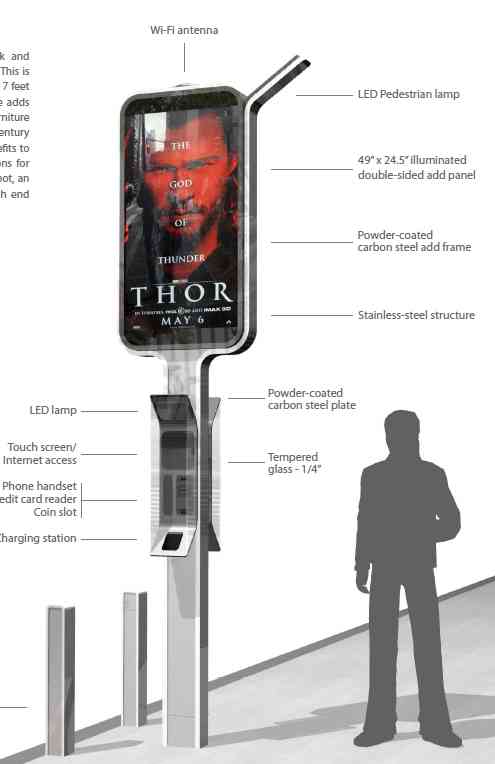 elected officials, Gale Brewer and Scott Stringer and their staff , Jesse Bodine and William Colgrove , for pushing DoiTT to initiate such a contest. Rachel Haot, Chief Digital Officer said  "This challenge is the first of its kind in the world,…"  and you all cooked it up in Hell's Kitchen!
Thanks to you, your testimonies, your active participation on line and in the flesh, we are embarking on the next step in the direction we set up 18 months ago to make sure the public played a key role in the form and function of the next generation of communications devices on our sidewalks.  Ignacio Cochinni of the 34th Street Partnership of citybenches' fame who worked closely with us on a sample design on the right, is entering the competition. Wish him luck.