In  a letter responding to a request from Manhattan Community Board 4,  Polly Trottenberg, Commissioner of NYC Department of Transportation indicated this week that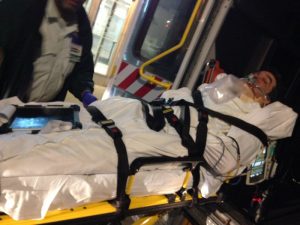 a study is underway for the 8th Avenue corridor , from 35th to 47th Street. DOT, jointly with the Port Authority of New York and New Jersey, will attempt to resolve the dangerous  conditions for both pedestrians and bicyclists on that stretch. The study should be completed in 2019. We are delighted.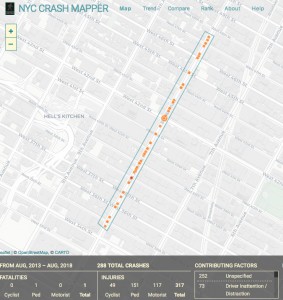 There were 317 injuries and 1 fatality on that stretch over the last 5 years, with 6 to 8
injuries per month being the norm. One of our neighbors was injured in a conflict with a pedestrian on the same stretch.
Streets films and Mark Gorton illustrated the situation earlier this year. CBS replicated the segment.
This a very encouraging outcome, although injuries should not be a prerequisite to fixing a corridor we have been complaining about for years.