Our long-held dream to rebalance the vehicular traffic between 9th and  11th avenues by converting 11th Avenue becoming one-way south only has been realized. As promised, DOT changed traffic lights and markings at the end of June 2019.  In August, will be the installation of bus loading platforms and a bike lane on the west side of the Avenue  And sufficient spare capacity will remain to install an SBS lane for the M12  when the  number of commuters warrants it.
Chekpeds has been working on this complete street since 2004. 15 years have passed with many other wins to pave the way and much help from various organizations and in particular HKNA, Transportation Alternatives, Street film, Streetsblog, PPS, Open Plan, Manhattan Community Board 4, Hudson Yards/ Hell's kitchen Alliance and Garment District, and our elected officials.
This one feels like a crowning achievement. Our primitive Powerpoint ( see one of the slide below dated march 2004) was shown to all agencies at the time under the banner of the HKNA traffic committee , chaired by Martin Treat. I recall the dripping sarcasm of all agency employees who looked at us like naive dreamers and sent us our way.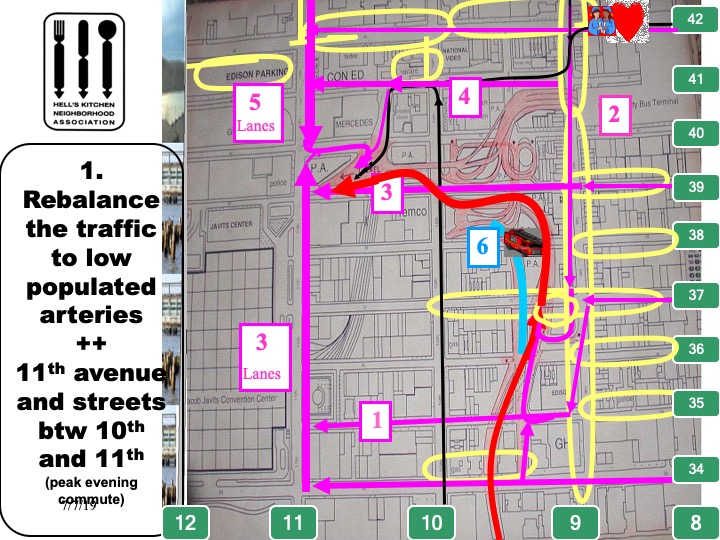 Fortunately things changed and new teams at DOT started to study the neighborhood . Our elected officials had procured federal funding to the DOT but in 2007, it was still an enormous challenge to include the words "pedestrians" and "safety" in the scope of the study. Took us about four months of wrangling to get there.
Subsequent DOT planners were very attuned to our concerns and fought valiantly inside DOT . Andrew Lenton, Greg Haas, as well as Margaret Forgione and scores of others, did wonders to move not only DOT but Port Authority in the right direction. We are very fortunate to see the result of their efforts. Bravo to all !