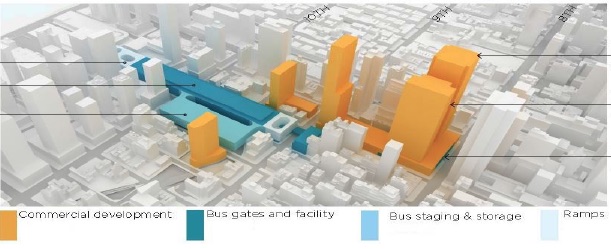 The Port Authority Board voted on October 22nd to initiate two studies in advance of finalizing a location and a design for a new bus terminal by September 2016.
Performing a "Trans-Hudson Commuting Capacity Study" including other modes like rail and ferry capacity, existing and anticipated patterns and preferences of bus commuter travel after arrival in Manhattan, strategies to reduce bus congestion in neighborhood streets adjacent to the proposed new bus terminal and in the Lincoln Tunnel and its approaches.
Conducting an international design competition (the "Bus Terminal Design Competition" or "Design Competition") soliciting conceptual designs for a new bus terminal on the site recommended by the Working Group, one block west of the current structure, between Ninth and Eleventh Avenues; and appropriate pedestrian connections to mass transit in the vicinity of the new terminal; suggest alternative sites for a new Port Authority bus terminal should their analysis determine that the proposed site west of 9th Avenue is not optimal.
A very interesting part of the board's recommendation was to "solicit substantial public and stakeholder input in this ongoing process" a part that has been sorely missing to date. Consider that the proposed bus location west of 9th avenue , would increase commuting time by 7 minutes everyday  and would require the condemnation of two 9th Avenue blocks, In short, the  $ 10 billion project would yield a slower commute, and a disfigured neighborhood.  Community Board 4 responded accordingly in its letter to the Port Authority: 
"CB4 is appalled at the idea of condemning two blocks in the heart of Hell's Kitchen-south, on 9th Avenue, our main retail corridor, in order to free up investment properties and make space for ramps and pedestrian passageways, when the existing underground passageways between Dyer and 8th Avenues could easily be used instead.  This would require the eviction of many affordable housing tenants, a church and food pantry, a nursery school, a farm, the only affordable food supermarket and a number of other retail stores essential to the character of our neighborhood. Robert Moses technique of razing our neighborhood is no longer acceptable. You can and must do better than that. "
As such projects will take eons to get completed , the Community Board also recommended that the Port Authority use unallocated funds to perform short term system – wide improvements that could relieve commuters and communities. Read the full letter here.