Everyone walks in New York: 11.4 million of us walk every day. This includes 1.1 million commuters arriving at the bus terminal, at Grand Central, and at Penn Station. Sixty million tourists visit New York annually and they walk. And we pay the highest price for that privilege: since 2014, 663 crash fatalities involved pedestrians – 50% of the total – and 55,000 pedestrians were injured.
Yet in Manhattan our walking infrastructure has been overlooked: 60-story buildings have replaced six-story tenements or 12-story commercial buildings, without any changes to the sidewalk width. Sidewalks are crowded to the point of overflowing into traffic at great risk to walkers. A recent analysis of Eighth Avenue shows that at peak hour, 85% of street users walk on 30% of the street space; in contrast, 12% of street users are in a vehicle and occupy 70% of the space. There are at least five different rules for the minimum width of the pedestrian right-of- way, varying from 9'-6" to 3'-0".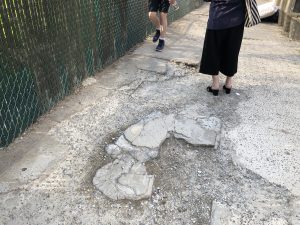 And whereas it takes just two days to fill a pothole, it takes six to eighteen months to repair dangerous sidewalk conditions. People with disabilities have to sue the City to obtain compliance with federal laws.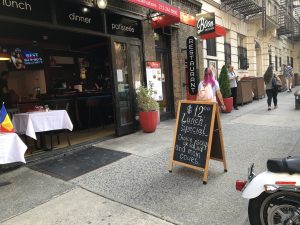 This inequity cannot be ignored any longer. It is time to address the pressing needs of the walking public – all of us – in this Master Plan. The City needs to re-envision the sidewalks not as peripheral spaces to the "side" of the far-more-prioritized vehicles, but as "Walk Lanes", pedestrian rights-of-way, with the same status as traffic lanes, parking lanes, and bike lanes. Depending on volume and capacity, a Walk Lane could be located entirely on a sidewalk or a plaza, or both on a sidewalk and in the adjacent street, or entirely in the street.
CB4 recommends that
the city evaluates  500 miles of walk lanes annually for capacity, safety and quality including ADA compliance
the city fix 100 miles of walk lanes annually
DOT establishes unified standards for minimal walking lanes width
DOT  and other agencies  streamline Walk Lanes maintenance and enforcement of obstructions