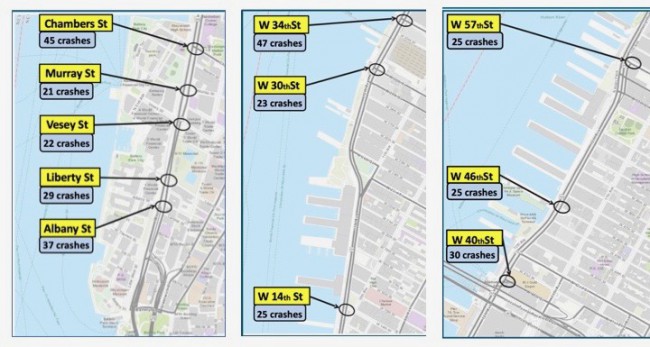 Two years ago, following a cyclist's death at Chambers Street, CHEKPEDS sent a letter to our elected officials and NYS DOT asking them to better protect Greenway. Cyclists have experienced many near misses, when southbound drivers turn west and cross the Greenway.  Senator Brad Hoylman ordered a study of the West Side Highway and the Greenway and NYS DOT just presented its findings and action plan. Better yet, the implementation starts immediately.
A number of treatments are included: more time to cross the highway for pedestrians and split phase signals that ensure NO conflicts between vehicles and Pedestrians/Bicyclists on the greenway. The speed on the highway will be limited to 30 mph –  down from 35  – and traffic lights will be adjusted accordingly. This is progress.
Unfortunately north of 13th Street, the plan is lacking. NYS DOT and NYC DOT are getting back to us with a follow up action plan from 14th to 57th Streets. We are keeping tabs.
Click Here to see the full presentation