Earlier this week the New York City Council joined Transportation Alternatives and the Tri-State Transportation Campaign in announcing its support for state legislation that would authorize a speed camera pilot program in New York City.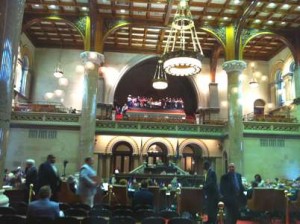 CHEKPEDS has been supporting these efforts for two years with lobbying trips to Albany. On Monday, March 18th,  CHEKPEDS Chair Martin Treat  testified  again at the City Council.
Speeding remains the number one cause of fatal crashes in New York City.  Speed cameras are a smart tool that will reduce speeding and help save lives, without taxing NYPD resources which are  spread too thin.
NYS Assembly Member Deborah Glick and NYS Senator Andrew Lanza championed this important legislation, and NYS Assembly Speaker Silver secured speed cameras in the proposed Assembly budget. Reso. 916, calls on the State to pass and Governor Cuomo to sign into law this legislation that would enable the City to test a maximum of 40 speed cameras at high-risk locations across the City for 5 years.
The council also voted in favor of closing a loophole in the current law which will contribute to saving lives. Currently, a traffic officer arriving at a collision scene, does not have the authority to give a summonses for lack of due care, because the officer was not present when the infraction was committed, even if observers can attest to the violation (at least NYPD has used this excuse to not give out such violations). See our Testimony.
The city resolution calls upon the New York State Legislature to enact A.2012/S.3644, and for the Governor to sign the legislation into law. The legislation gives authority to the New York Police Department to enforceVehicle and Traffic Law Section 1146, even if the police officer was not present at the time of the crash, as long as the officer has reasonable cause to believe the violation was committed by the driver. In 2010, Chair Martin Treat was on hand to support the original legislation , when it was introduced and voted.