In search of greenery… Finding our community's roots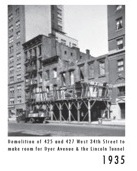 Ruth used to live in a house that was destroyed to make way for Dyer Avenue. She recounted on camera the life on 35th street, the hard working families who lived there and all the shops in the surrounding area. She told David, our neighbor and cinematographer, how much the park means to her.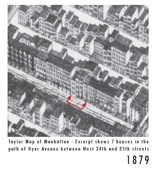 On Saturday, David will capture on camera the balance of her stories, the memories of her neighbors and the aspirations of today's members of our community who want a park.
Join us to bridge the future and the past
Making Dyer's Park Memories
Saturday, March 23rd. 11:00 a.m. to 12:30 p.m.
433 West 34th Street, (corner of Dyer Avenue)
Bring your friends, neighbors and children…
Post the flyer in your building – Click Here