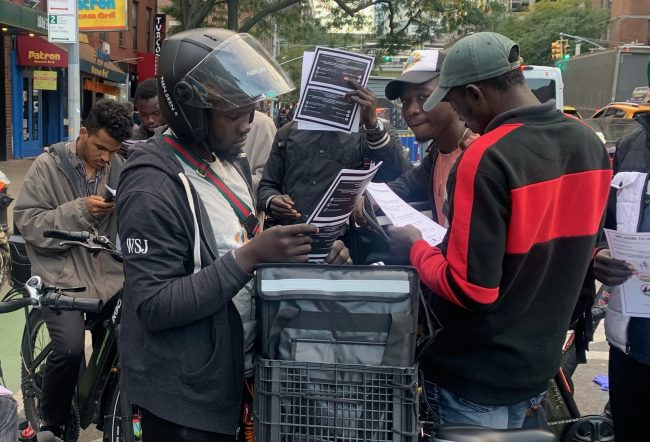 State Senator Brad Hoylman and Council Member Gale Brewer joined Pedestrians for Bicycle Safety, CHEKPEDS and Los Deliveristas Unidos, to educate deliveristas on the rules of the road. After a brief press conference with Assembly Member Tony Simone and Council Member Erik Bottcher, the activists split in three groups to walk down 8th, 9th and 10th Avenues from West 57th to 42nd Streets .
They distributed well over 200 flyers that explain in multiple languages the basic rules of the road, and how to obtain their drivers license and legalize their Mopeds.
Each cyclist read the flyers carefully and engaged with the activists in a respectful and pleasant manner. You can download the two sided Spanish – English flyer and the French – English Flyer.
Multifaceted policy
Last week, Manhattan Community Board 4 (MCB4) passed a resolution asking the Department of Transportation and our elected officials to implement numerous changes to the infrastructure, education and enforcement of rules. This multi faceted approach would bring order and a sense of safety to cyclists and pedestrians alike. There have been 26 cyclists fatalities in New York city this year to date.
As a first small step MCB4 and Council Member Erik Bottcher requested that DOT install markings on the super sidewalk to indicate that it is for pedestrians. And MCB4 also requested the installation of bike corrals along the bike lanes to direct cyclists away from sidewalk parking and riding. Such a strategy was successful in 2012 when DOT installed three corrals on 9th Avenue in the W30s.
Stronger laws to rein in the delivery apps
As we all know the food delivery apps exert undue pressure on the deliveristas by making them ride long distances to service very large catchment areas, and requiring delivery times that are unrealistic. The apps are also challenging in court a NY law that requires them to pay a livable minimum wage. These richly capitalized venture-backed companies shamelessly exploit the contract workers who have little recourse. New York State and City must pass legislation to ensure these policies do not put workers and our communities at risk.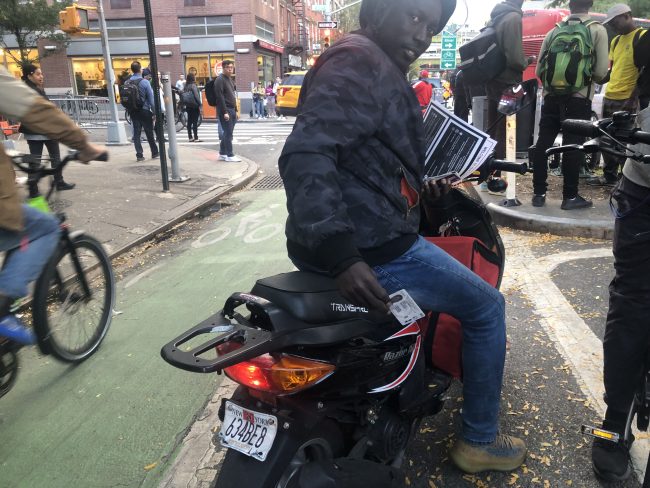 Some Moped riders were proud to show us their license and registration.
Thank you to board members Ernest Modarelli and Jehiah Czebotar for joining in this effort.