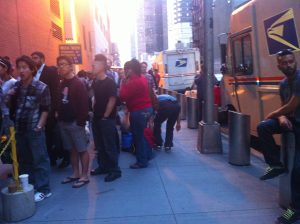 Tomorrow the DOT will seek Community Board 4's support to make permanent the Megabus interim permit for a curbside pick up at 41st Street between 8th and 9th Avenues.
NOTE CHANGE OF LOCATION
Community Board 4 Transportation Committee,
Wednesday, May 16th, 6:30 – 8:00 p.m.
Fulton Houses , 119 Ninth Avenue
What started as a quality of life and equity issues,  is rapidly evolving into a much serious question: Are these buses safe? Should they be on our streets?In addition to using buses with illegal weight, Megabus NorthEast has a poor driver safety record : on a scale where 1 is the best and 99 is the worst , Megabus ranks 74.5 in driver safety on the Federal Motor Carrier Safety Measurement System. The main reason for this poor ranking is the numerous citations for speeding at more that 15 miles per hour above the speed limit. In fact  Megabus is flagged for possible intervention by the Federal Administration.
In october 2011 the NTSB published a report on Curbside MotorCoach Safety   showing that these types of buses, which typically pick up passengers curbside rather than at a bus station, are seven times more likely to be involved in deadly crashes than traditional terminal bus lines. One of the major contributing factors in these crashes, the NTSB ruled, was speed. "(Buses) pose a high risk of death and injury to occupants of passenger vehicles involved in collisions with them due to the disparity in size and weight; speeding makes that risk even greater," the report states.
The Port Authority – the neighbor the most affected by this stop –  has come out loudly against renewing the permit. The bus terminal was created specifically to remove buses off the street. It is clear that if this permit is extended, all carriers presently at the terminal will leave it and will ask DOT for similar curb stops. thus going backward 50 years in term of chaos and health issues. It will be a disaster for our community and the for the Port Authority.
Long Distance discount bus operator Megabus continues to use 400 feet of curbside parking and loading space and 300 ft of sidewalks in an already saturated area. With the nice weather the crowds swell on sidewalks with no space left for pedestrians.  Join us to speak up at the Community Board Transportation Committee.