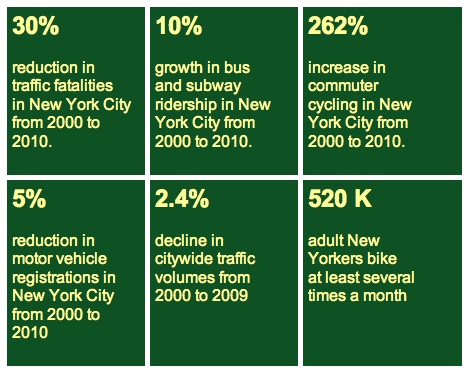 In six diverse neighborhoods (from the Bronx, Brooklyn, Manhattan and Queens) 85-93% of people arrived by transit, biking or walking.  In two neighborhoods (Astoria, Queens and New Dorp, Staten Island), 60-77% of people arrived by transit, biking or walking.  Here are a few other interesting statistics from the report:
Traffic speeds in the Manhattan CBD improved by 6% between the fall of 2008 and fall of 2009, and then leveled off in 2010.
Delivery companies' vehicles saw travel times improve 130% from a pilot of off-hour deliveries, based on a comparison of evening and midday travel speeds.
Parking duration fell by 20% in Park Slope, Brooklyn due to the PARK Smart peak rate pricing pilot, enabling more drivers to find metered spaces and reducing overall traffic volumes on the neighborhood's main commercial avenues.
Over the last decade, 80% of new housing units were built within walking distance of a subway station or SBS route, focusing population growth in transit- oriented areas of the city.
From 2003 until the 2008 recession, New York City experienced a period of fully transit-centered  growth in which non-auto modes absorbed all the growth of travel in the city. Vehicle traffic levels declined slightly while subway and bus ridership rose 12% from 2003 to 2008 and commuter cycling increased 79%. Commuter cycling increased 26% from 2008 to 2009, and an additional 13% from 2009 to 2010. 520,000 adult New Yorkers bike at least several times a month.
Protected bike paths led to 46% to 268% growth in bike volumes : 69% increase on Ninth Avenue in Manhattan, 97% increase on Kent Avenue in Brooklyn and 268% increase on Rockaway Boulevard in Queens. On key bike routes in Manhattan, bike riders comprise up to one-third of those using the street for transportation – for example, 37% of those traveling on Prince Street in the evening rush period and 32% of those traveling on East 10th Street
You can read the full report here .