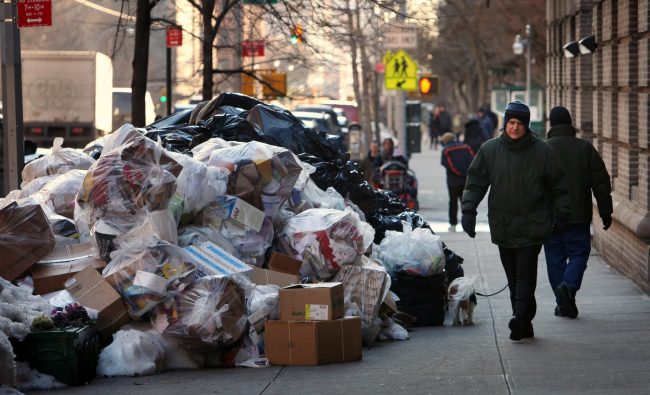 Is the idea of putting Trash Off the Sidewalk Space dead? No: many properties are trying it and liking it, but it remains a minuscule portion of the City. The bigger news is that both DOT and Sanitation recently gave hints of efforts underway.
The Walking and Pedestrians sections of the DOT Streets plan mentions:
"Waste Containerization: To improve pedestrian flow and quality of life, NYC DOT has partnered with the NYC Department of Sanitation (DSNY) to pilot efforts to containerize waste set-out and collection on both the sidewalk and in the curb lane of the street. The Clean Curbs pilot program permits private entities to have sealed, on-street containers
for their business trash and recycling storage, which will eliminate the set-out bags of recyclables and garbage on city sidewalks. DSNY and NYC DOT will begin a small residential pilot of the Clean Curbs program in 2022 and will continue to research and test best practices for reducing the volume of waste set out on city sidewalks and improving the cleanliness of the streetscape, with the goal of expanding more broadly if successful."
In a public interview, the Sanitation Department Commissioner indicated as well that a residential pilot would be conducted in 2022.
We have our fingers crossed.