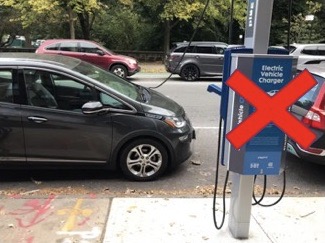 After months of discussions and extensive consultations between the Transportation and Environment committees, MCB4 Executives and full board endorsed by a large margin a common sense policy to not support installation of EV chargers on sidewalks. Instead it recommends that incentives be directed at Level 3 (fast) charging hubs that would replicate the current business model to fill your tank in a private gas station.
The letter indicates concern about restricted sidewalk usage for those in our district including tourists, commuters, seniors, and physically challenged users, especially when so many obstructions are already blocking pedestrian space. In addition, we are wary that curbside charger installations will limit options for other current and future street improvements projects such as sidewalk expansion, dedicated bus lanes and bike lanes.
In a separate letter to the Department of Citywide Administrative Services ( DCAS) who manages the city fleet, MCB4 wrote "Around NYPD precincts and Special operations–of which there are five in our district- sidewalk chargers would exacerbate the current encroachment on sidewalks, which is already severe and problematic."
The letter focused on the need to reduce the number of vehicles in the fleet and their weight in order to achieve carbon neutrality in a more holistic fashion . A car is a car – whether or not it is electric.
CHEKPEDS also note that scarce public space should not be dedicated to private for profit transactions.