Eight years ago Chekpeds started with FOILing (Freedom Of Information Letter) DOT for crash data on 9th Avenue. It took 6 months to receive a pile of paper which we painstakingly turned into  a spreadsheet and a graph.
Transporation Alternatives (TA) then created CrashStats, a hugely useful tool to see the same information on line, but the data stubbornly remained one to two years old. We collectively pushed for more transparency and two years ago, Council member Gale Brewer sponsored a legislation compelling NYPD to publish monthly where and what type of crashes occur on our streets.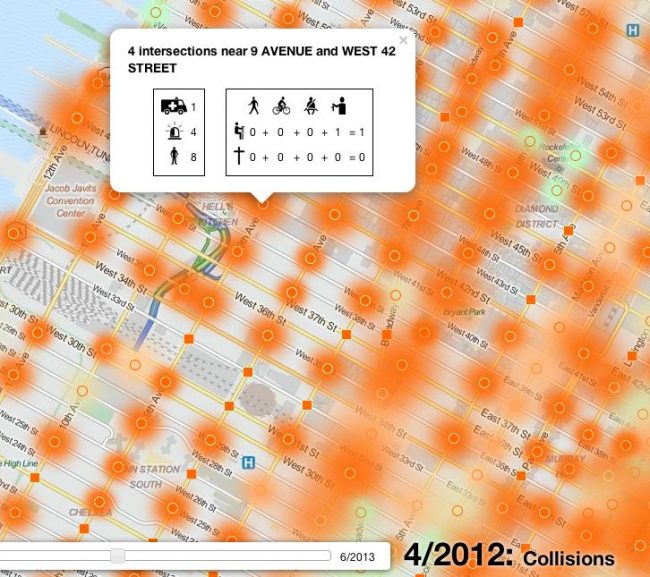 NYPD complied  reluctantly by publishing the data in PDF format, which prevents data mining. After another fight,  they finally agreed to publish the raw data. Now a new tool is available to easily find crashes related to neighboring intersections. NYC Crashmapper. It is version 1.0 , and does not provide cumulative information, but it is already a giant improvement over the old methods since the information is very current. Our Co-founder Martin Treat who spent countless hours at the precincts begging for such statistics will certainly be happy to see this progress!
You can also report near misses and dangerous behaviors that do not convert in injuries in another tool CrashStories to illustrate how intersections are much more dangerous than reported .  Transporation Alternatives will use this tool to advocate for safety measures.  Bookmark it on your iphone and use it without restraint. The more information we have the faster we  will get help …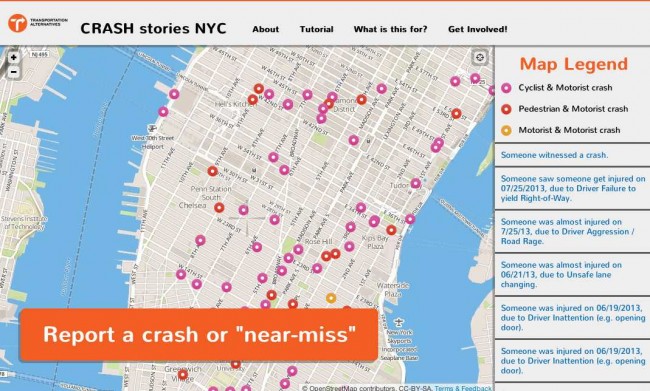 Hopefully  with better information in activists's hands, we will be able to make smarter recommendations.