DOT installed three bike corrals  last week on the floating parking lane in Hell's Kitchen, freeing up much-needed pedestrian  space on a very narrow sidewalk. Casa Di Isaaco, Pomodoro and Aurora Thai  restaurants signed Chekpeds' Good Neighbor Agreement to maintain the public spaces.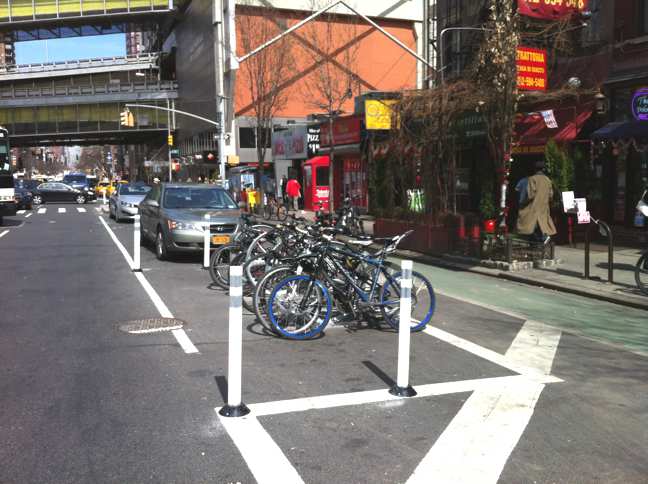 These corrals are the first in New York City and probably in the United Sates to be located on the floating parking lane. In 2009 Chekpeds had discussed this pedestrian-friendly configuration with the DOT, who pursued the idea. in 2011 DOT started to install corrals in the streets along sidewalks and in 2013 agreed to install them in the floating lane, with the bike lane installation.
Delivery bicyclists between 35th and 40th streets immediately relocated their bikes to the corrals and expressed their gratitude for the facilities .  DOT removed the existing  bike racks on the sidewalk as Community Board 4 requested.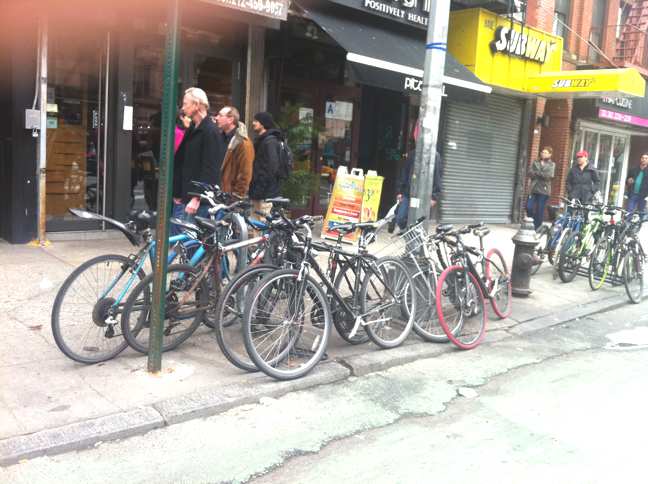 The benefits for pedestrians are immediate: 36 bikes were removed from the sidewalk giving pedestrians that much space to walk . As important, bicyclists do not ride any longer on the sidewalk in order to reach their parking spots!
And indeed everything looks much more civilized! If there are a lot of bicycles parked on a given block, please contact us to order a bike corral.