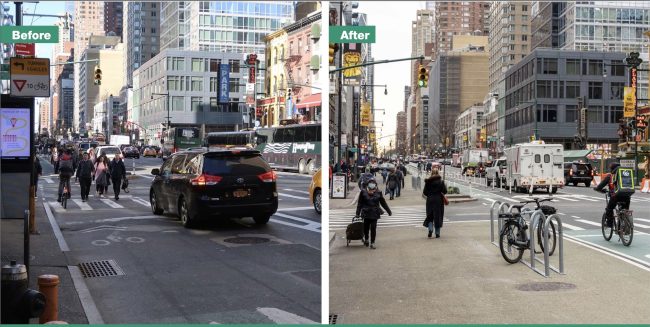 The NYC Streets Plan dictates quantitative milestones for Protected Bus Lanes (Miles), Protected Bike Lanes (Miles), Bus Stop Upgrades (Shelter or Benches AND Bus Time Poles), Transit Signal Priority (Intersections) Accessible Pedestrian Signals (Intersections) Pedestrian Space (Sq. Ft.), Redesign Intersections, Commercial Loading Zones and Truck Routes Parking Policy Revisions. The NYC Streets Plan became law in 2019.
In this update, 8th and 9th Avenues sidewalks widening were prominently displayed as a major accomplishment and we certainly agree with that. DOT also mentioned our W 45th Street pilot to rid sidewalks of trash.
We are also encouraged that 10th Avenue Bike lane and the continuation of 9th Avenue Super Sidewalks are listed as future improvements in the plan.