The communities of Hell's Kitchen South / Chelsea / Hudson Yards in New York City have reasons to be concerned about the quality of their air. A six-week study of the air quality performed by Clinton/Chelsea/ Hell's Kitchen Coalition for Pedestrian Safety (CHEKPEDS)'s  25 volunteers demonstrated that the air  contains unhealthy levels of micro particulate matters that are known to cause cardio vascular and respiratory diseases like lung cancer. Read the full report Here. 
Summary Findings
Every week for six weeks, peaks of particulate matter (PM1, PM2.5, PM10) and NO2 caused by fuel exhaust significantly exceeded levels considered safe by the World Health Organization (WHO)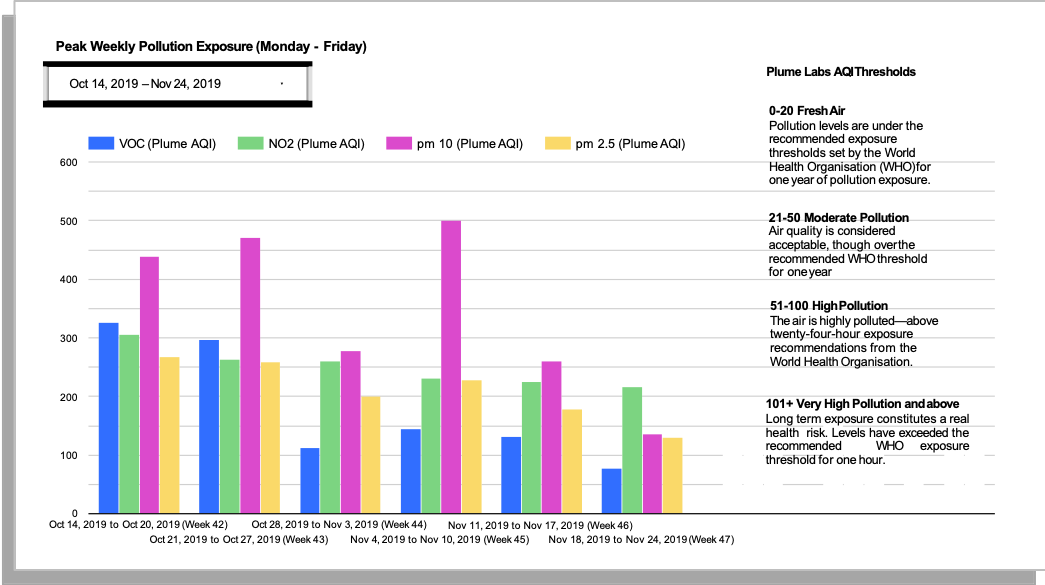 The areas closest to heavy vehicular flows and the bus terminal  showed the worst measurements on the Air Quality Index (AQI ). Click Here to view the interactive map .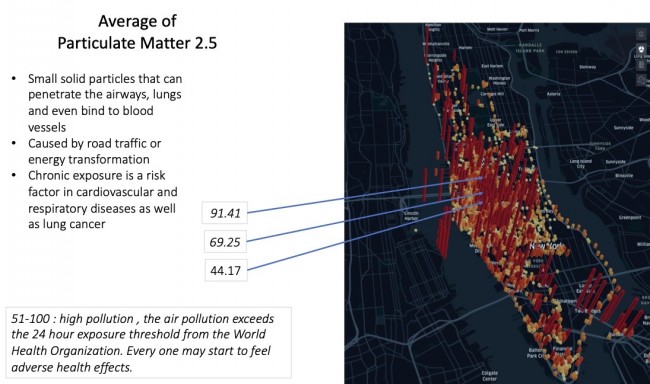 These results on the ground confirm and amplify the New York City Department of Health measurements that show this neighborhood as being the third worst in New York City for air quality. After 15 years of city programs, this neighborhood remains highly polluted and lags all others for air quality improvements.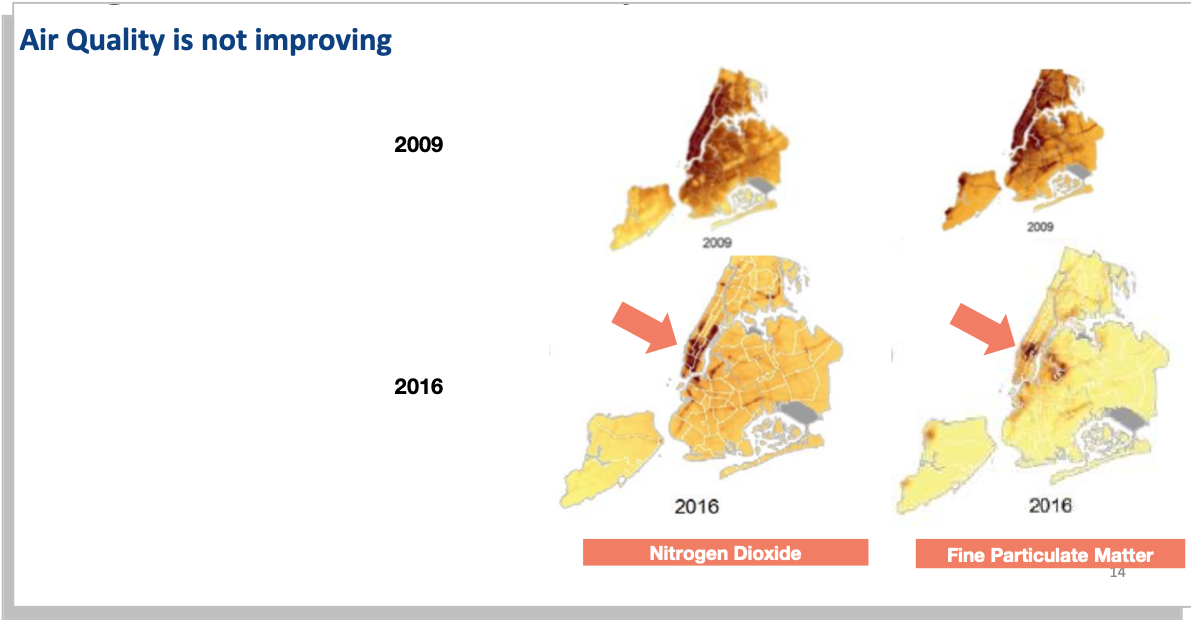 Next Steps
We are calling on our elected officials and agencies to put air quality front and center of many efforts in our neighborhood:
Improve year- round measurements and available data: agencies like the New York State  Department of Environmental Conservation (DEC) and the New York City Department of Health  (DOHMH) should deploy additional measuring towers especially in New York City Housing Authority (NYSHA) properties in our district. Results should be reported to the community annually.
Take short term measures: agencies must develop immediate plans for reducing air pollution in the area: DOT and Port Authority (PA) have some control over the use of streets and facilities in the area. New planning and vehicular rules that improve air quality  must be developed and implemented now, especially reducing idling cars and buses.
Incorporate in greenhouse reduction plans: agencies must include the impacted area in their long-term Plans : Port Authority plans call for a 35 percent reduction greenhouse gas (GHG) reduction by 2025.  Both the PA and the City signed on to the Paris agreement that requires 80 percent reduction by 2050.
Factor in future land use projects: Community Board 4 and Department of City Planning exert influence over the characteristics of new developments; they must pay serious attention to this issue. The area's air quality improvement programs must be included in all projects.