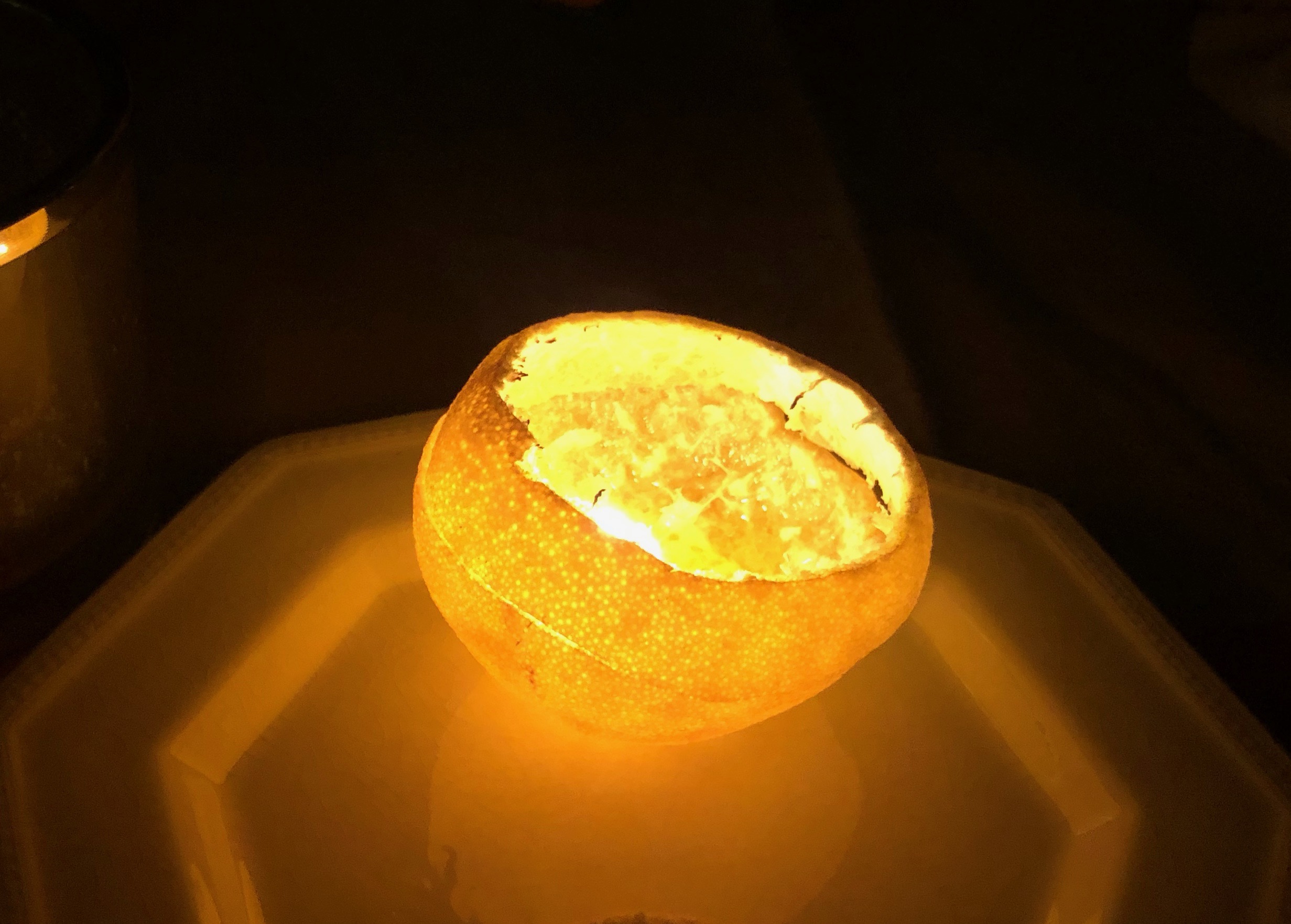 Dear friends ,
2019 brought us many successes , but – in the end-  turned out to be one of the bloodiest for pedestrians and cyclists in Chelsea and Hell's Kitchen. Eight fatalities!  double from last year. This is devastating. Pedestrians and bicyclists of all ages deserve a safer city. We will not stop until that happens.
The number of traffic fatalities is getting worse citywide and countrywide , but we had hoped that our efforts over the last 15 years would have spared us from this carnage.  Three of the fatalities took place in locations where we had requested additional safety, pointing to the need for more resources for DOT to ramp up their efforts .
CITYWIDE : 
Congestion pricing legislation passed in Albany. This is the only way to get less chaotic and safer streets . The implementation should start in early 2021. Read more about it.  We sent information to all the out of borough state elected to educate them on the benefit they will derive from the program.
Enforcement: 750 Speed Cameras were added to streets around schools and their hours of operations were extended thanks to the extraordinary persistence of Families for Safe Streets and Transportation Alternatives.
Street MasterPlan : Speaker Corey Johnson's signature initiative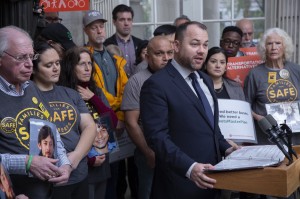 to accelerate DOT's efforts and  keep the DOT accountable for their results was passed into law. With the Speaker's strong support, Chekpeds was instrumental in adding goals to fix intersections and to add pedestrians space in the bill.
Tools & Training : We designed and delivered with the Borough President staff a training session for Community Board Transportation committee members. Crashmapper was included in the Data training curriculum for new Community board members. Chekpeds trained activists in three separate sessions on the use of Crashmapper.  To date, 7,000 have used the site and it is frequently quoted in the press as a source.
IN OUR DISTRICT
DOT did an admirable job with limited resources to deliver on many projects in our neighborhood. They worked hand in hand with the community : in total, they made 16 intersections safer for both pedestrian and cyclists , installed a major upgrade to pedestrians space, laid down four different protected bike lanes and completely transformed a bus corridor.
Safer Intersections  for both pedestrians and cyclists at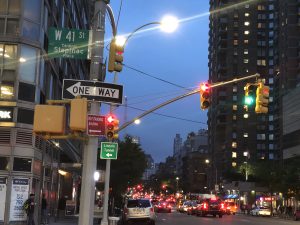 41st street and 10th avenue
42nd Street and 8th Avenue on 42nd street
39th, 41th , 42nd , 43rd, 45th  and 57th Streets and 8th Avenue
57th street and 10th Avenue
57th, 55th, 53rd, 51st, 49th, 47th, 45th , and 43rd street on 11th Avenue
Pedestrian space and experience  :
The sidewalk space was doubled in size on 8th Avenue between 38th and 45th Streets where commuters frequently walked in the street !
TOSS (Trash off the sidewalk) aims at relocating the garbage from the sidewalk to the parking lane and allow pedestrians to walk without obstructions or being subject to rats and odors. The Departement of Sanitation is reviewing our proposal.
The Air Quality Study involved 25 volunteers to take measurement of our air quality with portable mini labs: the Flow devices. After 6 weeks of measurement, we are now waiting for the final report.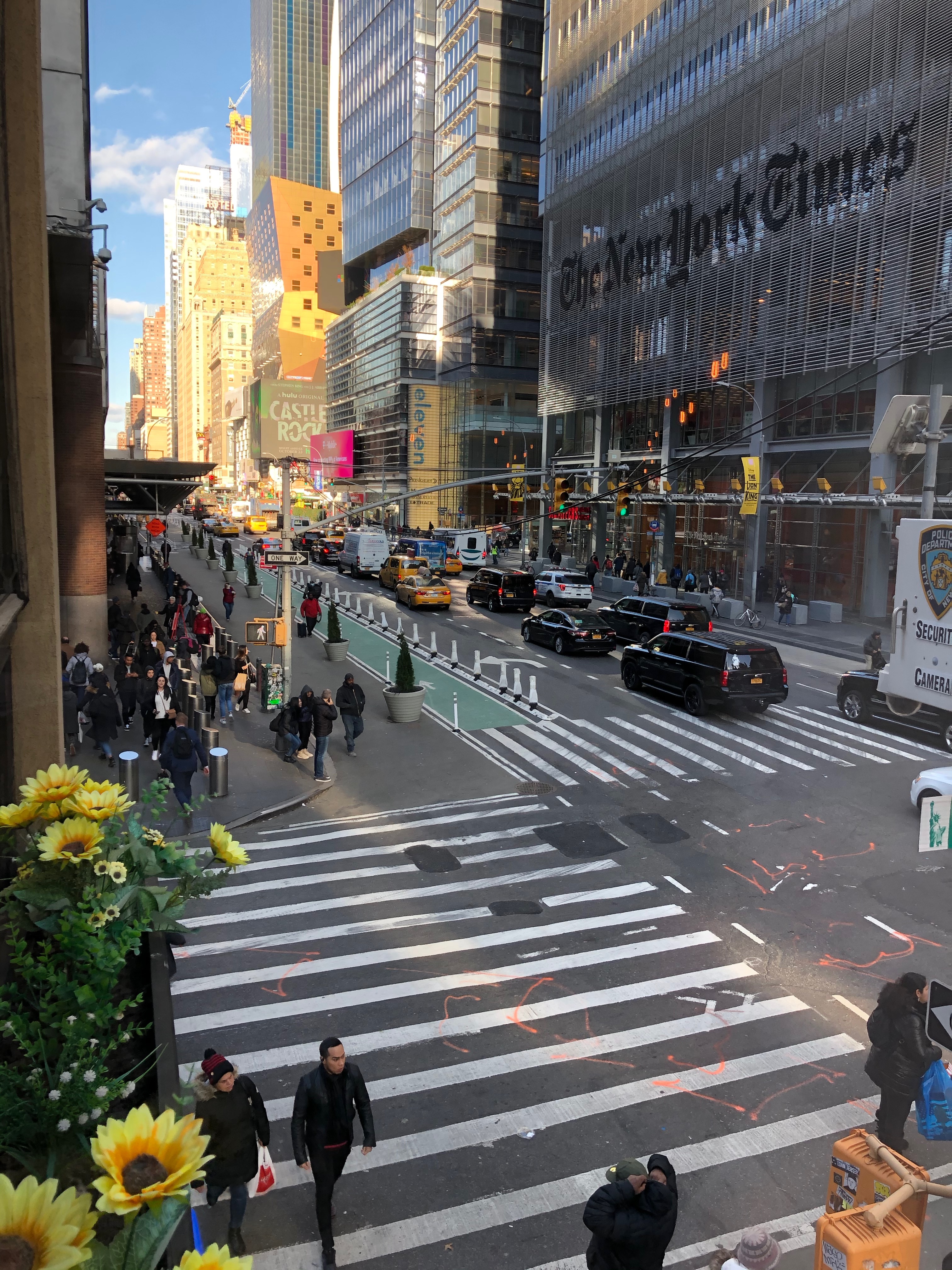 Bus riders finally got people's attention:
a new style of protected bus lanes was installed on 14th Street, along with limiting vehicles to local access only. Transporation Alternatives and Riders Alliance were determined to make every bus rider count.
Early results are impressive, but the side streets still require some mitigation.  nforcement camera mounted on buses make their debut this week. See more Here and recent statistics Here
42nd Street also got an upgrade with red painted bus lanes. The jury is still out on its efficacy.
Cyclists also got numerous  improvements
on the 8th Avenue stretch in front of the Port Authority bus terminal DOT closed the gap with a fully protected bike lane with very few pedestrian conflicts – It is spectacular!
11th avenue from 57th to 42nd Street was turn into one- way – a project we have worked on for 15 years – and equipped with a fully protected bike lane and boarding islands for the bus riders.
8th Avenue from 55th street to and including Columbus circle was upgraded and equipped with a bike lane .
50th and 55th streets we equipped with protected bike lanes as well as 10th Avenue from 50th street to the connection to Amsterdam Avenue .
As you can see, our effort have never been more successful and yet the numbers do not reflect these advances. We are both proud and profoundly saddened by this year's results . We must continue to question whether our approach works and what else we and the city should be doing .
We wish you a safe and healthy 2020.