On April 3rd over 60 people gathered at the Metro Baptist Church to hear about  HKSC  proposed plan to help undo the damage and disfiguring scars left by the many open air cuts that were created to allow for the Lincoln Tunnel entrances and exits in Hell's Kitchen South.
Congressman Jerry Nadler spoke to assure all that we won the battle against the use of eminent domain by the Port Authority. He is now ready to help us with the next phase to improve air quality and make sure that most buses – if not all- use ramps and not streets to access the terminal.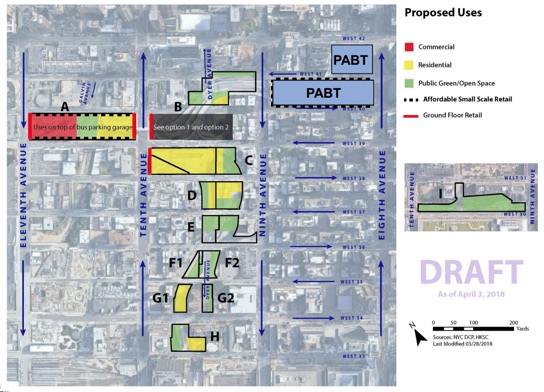 The plan addresses nine sites owned by the Port Authority. While respecting the current zoning, it provides green spaces, residential with 30% affordable, some commercial and affordable local retail on certain side streets . This plans requires building platforms over the Dyer Avenue cuts to create developable land. See the full plan. 
The community gave over 150 comments as feedback.  On April 12 , this conceptual plan was presented to CB4's Clinton – Hell's Kitchen Land Use committee which expressed its support. A letter will be voted on at the next full board .