We are continuing our annual program of greening the neighborhood . This year four new tree guards were installed in addition to the 25 that had been previously installed in Hell's Kitchen South.
Two very large ones on 9th Avenue @ 56th Street and  on 8th Avenue @ 20th to protect  Micro gardens on the bike lanes;  and two on the sidewalks on 9th Avenue in the 40s  to protect newly planted and fragile trees.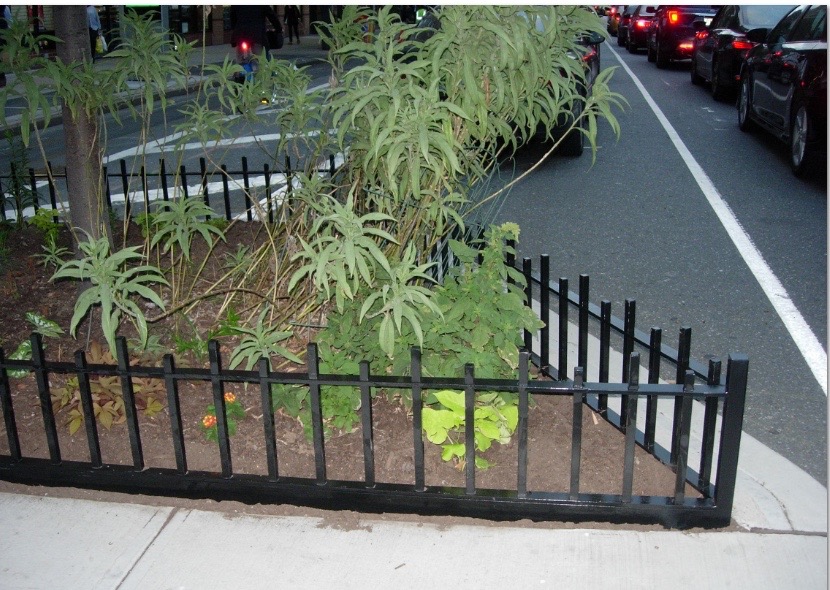 Let us know if you have newly planted trees that deserve protection  (on avenues and bike lanes only)
Over the summer, we  also orchestrated the creation of the East Chelsea Gardeners with the critical help of William Borock President of the Council of Chlesea Block Associations, and Shirley Secunda Chair of CB2 Transportation Committee.
After the Community Board insisted on the installation of pedestrian islands and refuges on the 6th Avenue bike lanes in January 2016, the DOT agreed to create micro gardens wherever a gardener was in charge. We recruited 37 volunteers who adopted one or sometimes multiple micro gardens. This includes the Flat Iron BID and the 34th Street Partnership BIDs, as well as Lowe's and TD bank.
DOT has finished building most of the islands.  We held a kick off meeting on October 17 where everyone shared information and particularly the founders of the Chelsea Garden Club  shared their insights on planting etc .
The first micro garden was planted this week end on 6th Avenue and 15th Street !  This project will put a smile on your face.