Bike Corrals are bike racks installed in the curbside lane of the street (instead of on the sidewalk) to provide public bike parking. The new commissioner of the Departement of Transportation just announced that 10,000 bike corrals will be installed in the coming months.
This is a perfect time to ride the momentum and request such installations on your block or in front of large buildings or anywhere a lot of bicycle delivery personnel congregate , in front of a restaurant for example. Beside clearing up space, the corrals do reduce occurrences of riding on the sidewalk. Click Here to order one.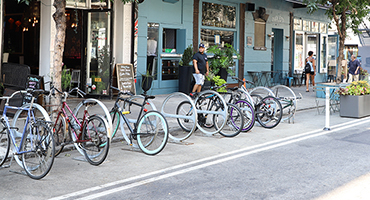 On 9th Avenue we installed three bike corrals in 2013 . This freed up much needed pedestrian space and reduced biking on the sidewalk.