Mark your Calendars – January 8th 2007 – We need YOU to Redesign 9th Avenue – TOWN HALL Meeting – 9th Avenue Renaissance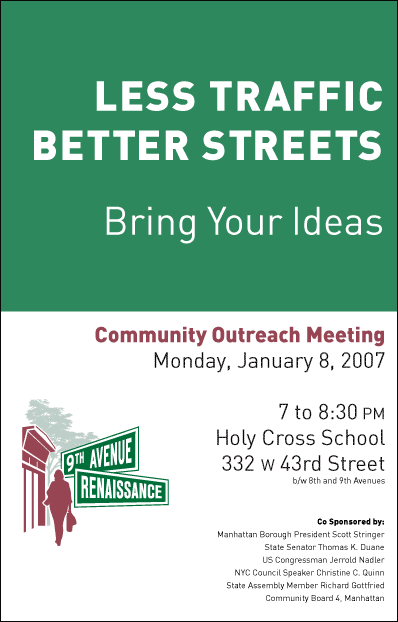 Share your ideas and concerns about traffic on 9th avenue with our elected officials and PPS, our consultant .
We have completed the funding necessary for the " 9th Avenue Renaissance" project, intended to redesign 9th avenue and make it more friendly to pedestrians, cafes and businesses.
The idea is very much like making alterations to your home … It is so much easier if you have a drawing of what it will look like when it's done. The project will draw on the participants ideas guided by Project for Public Space , an organization who has driven such projects all over the United States.
The neighbors get together, identify the key problems at the project location, go on site to quantify the issues , and come back together to suggest a new design for the area.
The PPS team will contribute ideas on traffic calming and on place design. They will create mock up photos of what the place would look like after the transformation.
Learn More on Project for Public Space click here