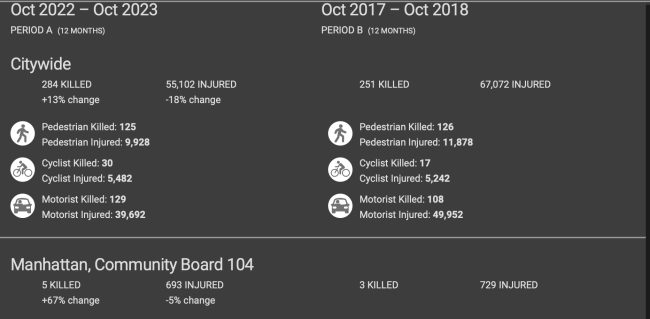 In spite of sustained efforts to make our roadways safer, there were 5 traffic deaths in CB4 in the last 12 months, versus 3 in 2018, a 67% increase. While one cyclist died, none of the deaths were due to bicycles. Injuries to cyclists increased by 16% while injuries to pedestrians decreased by 22%.
This amounts to 58 injuries per month in CB4! And we know first hand that some injuries are very serious: a driver hit State Senator Hoylman's former chief of staff, Jacob Priley who was biking in Brooklyn. He stayed in the ICU for a prolonged period of time between live and death, and is facing an arduous recovery.
What is causing this epidemic?
While DOT continues its work to make street safer for all, it appears that the administration is no longer focused on this issue. We applaud our Council Member Erik Bottcher for bringing us the 10th Avenue bike lane and its slew of protections for pedestrians: protected crossings at key intersections and concrete pedestrians refuges at most other intersections. This will continue to reduce pedestrian injuries in our district and hopefully slow down the increase in cyclist injuries.
Many attribute this increase to speeding, driving distracted and to SUVs. These vehicles which now account for 60% of car sales are more dangerous to pedestrians and cyclists because their front bumpers – which are much higher- hit pedestrians in the trunk or the head instead of the legs.
However few are talking about the precipitous decline in enforcement of traffic infractions by NYPD in our district (10th, MTN, MTS precincts). And indeed some infractions are not even tracked because there is no enforcement. Scroll down to see all numbers.
Summonses Comparison 2018- 2023 YTD
| Offense Description | YTD 2023 | Change from 2018 YTD |
| --- | --- | --- |
| | | |
| Cell Phone | 208 | -85.22% |
| Fail to yield Right of Way to Pedestrian | 1146 | -62.44% |
| Improper Turn | 1522 | -73.30% |
| One Way Street | 84 | -81.70% |
| Red Light | 1292 | -46.32% |
| Disobey Traffic Control Device | 2841 | -41.59% |
| | | |
| Bike Lane | 342 | 402.94% |
| Bus Lane | 144 | 10.77% |
| Improper/Missing Plates | 198 | 288.24% |
| Unregistered | 468 | 234.29% |
| | | |
| Riding on the sidewalk | missing | 0% |
| Parking on the sidewalk | missing | 0% |
| Riding the wrong way | missing | 0% |
What can we do?
First and foremost, we collectively need to keep a laser focus on this issue.
It is critical that the administration renews its focus and direct NYPD to resume their work to make streets safe for all users. People are dying and people are getting severely hurt. This is the very definition of lack of safety. Our neighbors should not die because they need to buy potatoes for dinner. This out of control behavior was tolerated during COVID when streets were empty, but it is now too dangerous when so many pedestrians have returned to the streets. Please attend your Precinct Community Council and demand an increase in enforcement of traffic on the sidewalk and on the roadway..
Street design or signal design continues to be a permanent way of addressing safety. Those intersections account for the most injuries in our district: map
W 46th and 9th avenue has 12 injuries
W 55th and 10th has 7 injuries
W 43rd and 11th has 5 injuries
W 24th and 7th avenue has 7 injuries
West 19th and 8th avenue has 5 injuries
West 23rd and 6th avenue has 5 injuries
West 34th Street has 6 injuries on each of 11th and 12th avenues
We encourage you to send requests to Community Board 4 and to Council Member Erik Bottcher asking for safer intersections.