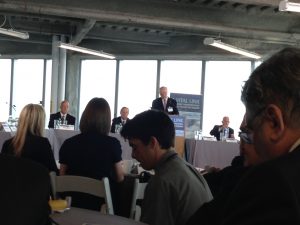 On May 7th, 2015, the Port Authority of New York and New Jersey (PA) convened a Summit for Trans Hudson Transportation attended by the crowned heads of the Region Transporation sector: most top executives of the Transportation Agencies that provide services in that space were at the table as well as a representative of the US Department of Transportation.  This kind of royal attendance is usually seen only for weddings or funerals. The future will tell us what it was.
As a proper venue for such lofty goals, the meeting was held on the 63rd Floor of One  World Trade Center from which New Jersey looked so close … and yet billions of $ away for the 75% additional commuters that will be coming to NYC in 30 years.
Irreverence aside, this was both a hopeful and distressing meeting, showing how far PA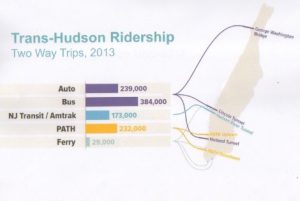 will have to go to deliver 21st century cross Hudson transportation to the fast growing hundreds of thousands of commuters – more and more of them millennials – who come to work in Manhattan everyday .
The meeting marked the kick off of the Strategic Planning effort,  described in the remarkable  report "Keep the Region Moving" prepared by the Special Panel on the Future of the Port Authority  and endorsed by both governors in December 2014.  The board of the PA endorsed this blue print which calls for "initiat[ing] a long-term planning process for the expansion of Trans-Hudson transit capacity, including river-crossing and terminal facilities; "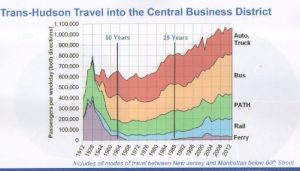 The hopeful part is that the New Chair, Vice Chair and commissioners have already demonstrated that the report was not just words:  They are coming from the industry, real estate and finance and have implemented drastic changes at the board level: open discussions, transparency, business minded focus and public dialogue which augurs well for a reasonable and thoughtful outcome. However the obstacles are immense.
Most of our existing mass transit systems (except roads) were built by individual entrepreneurs (August Belmont Jr. owned and built the  Inter-borough Rapid Transit- IRT  in 1904) or by bureaucratic tyrants (Robert Moses and most recently Dan Doctoroff) who were inclined to bulldoze their ways to achieve their vision with single mindedness. The current crop of Transportation leaders are operators NOT builders. Just look at MTA's recent efforts (East Side Access, Second Avenue Subway) to see that the organization lacks what it takes to pull off such large projects.
Because the agencies have specific footprints and technologies, there is an natural preference for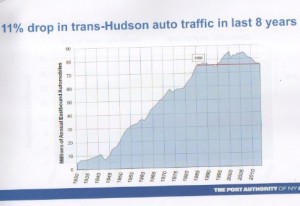 operating within these boundaries creating massive bottlenecks and inefficiencies at interface points: Port Authority Bus terminal, Penn Station, Grand Central  etc.. , while transportation – just like the internet- is about "interconnectivity" "speed" and "customer delight".
As a commuter you have to ask: Why should I need different modes of payments for different segments? cars do not have that problem with Easy Pass! Will my commute be shorter?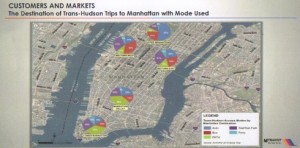 Why is the subway not going west of the Hudson ? Can you imagine the subway system if it stopped in Manhattan and we had to take the bus or the train to go to Williamsburg or Queens?   Would commuters rather hop on a train or a subway? Are 7,000 buses back to back the right technology to move 320,000 people a day all through one lane of the Lincoln Tunnel ?
What about the costs ? Indeed as a budget constrained operator, it is difficult to conceive that when meeting with the US Government you should really  behave like an entrepreneur meeting with a venture capitalist:  the more you ask, the more credible you are. Dick Cheney and Rumsfeld knew that well : if the US Government spent $ 3 Trillion on the war in Iraq, there should be no problem finding $ 30 Billion to build a new Cross Hudson infrastructure for the next 100 years.
What was obvious at the meeting, is that each agency has dreamed up its own solution in its geography and with its own set of technologies, building on what they know how to do and not on what the customer wants, because in the current configuration they are not empowered to do anything else. This is the worst possible use of capital, and guarantees extravagant maintenance costs for a system that pleases no one.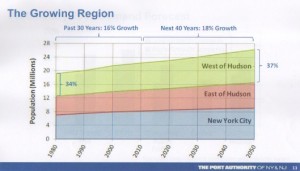 We will see if the PA cobbles together a collection of marginal solutions that continue to build up bigger and bigger hubs or steps up to the plate and lays down a blueprint and key components of a 21st century distributed network, while giving each agency a mission  to connect and converge to the new network over time.
Doing the right thing will take guts of steel, but If anyone can do it , this board is our best bet.
See video and presentations Here