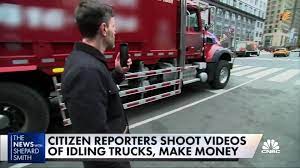 Our recent battle for a better air quality was successful. The DEP (Department of Environmental Protection) listened to the advocates's suggestions: the new definition of what type of vehicles can be exempted from the law is carefully crafted to retain all critical uses without opening any loopholes.
It did not hurt that Manhattan Community Board 4, Senator Hoylman and Assembly Member Rosenthal sent strong letters of support. Thank you!
We applaud the new commissioner, Rohit Aggarwala,'s initiative to open a constructive dialogue with the advocates. These citizens are on the front lines and do the most to cause scofflaws to respect the law. The citizen enforcement program is very successful, even though the procedures could be easier. A very promising start.
Albany passed the " Stop the Chop " law.( Senate Bill S7493A Assembly Bill 8473: ) which allows individuals to sue helicopter companies for excessive noise. Can we hope for quieter days without helicopters? probably not 100% right away as the legislation in Congress , also needs to pass. A huge thank you to former Borough President Gale Brewer who worked tirelessly on this effort, and all our elected officials who joined in and pulled a phenomenal win. And bravo to the coalition " Stop the Chop" who orchestrated it all .