Earlier this month, the beloved 73-year-old Kathie Coblentz, who lived steps away and was the third-longest serving employee of the New York Public Library was killed by a driver exiting the parking garage. Coblentz was mourned by her colleagues at the public library and honored in the pages of the New York Times.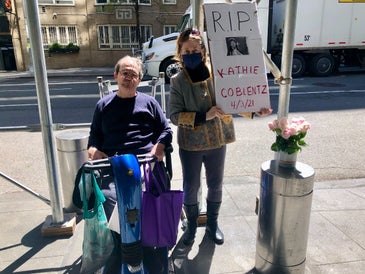 Chekpeds Chair, Martin Treat, and Kathleen Treat, mobilized with fierce advocacy to get safer treatment at the exit. Manhattan Community Board 4 stepped up and sent a letter asking for such improvements.
Now Related and the operators of the parking garage have installed on both entrances (W58th Street and W60th Street between 8th and 9th Avenues) , the most obvious precautions: speed bumps and a stop sign. In addition CB4 contacted the Department of Building to accelerate removal of the scaffold.
Even though Kathie was walking in the street at the time of the crash, Martin's advocacy will not be wasted. We are confident that these new measures will save lives .
Now, these safety features are only required for garages built after 2013. The challenge will be to convince City Planning to apply such rules retroactively and make sure that all parking entrances are safe for pedestrians. It is unconscionable that such simple measures are not required everywhere.