NYC DOT is developing the NYC Streets Plan, a five-year transportation plan to improve the safety, accessibility, and quality of the City's streets for all New Yorkers. The plan is being developed in response to Local Law 195 enacted in December 2019, which directs NYC DOT to issue and implement a transportation master plan every five years. This law, passed by Speaker Corey Johnson represents a significant progress toward obtaining equitable and improved transporation for all New Yorkers.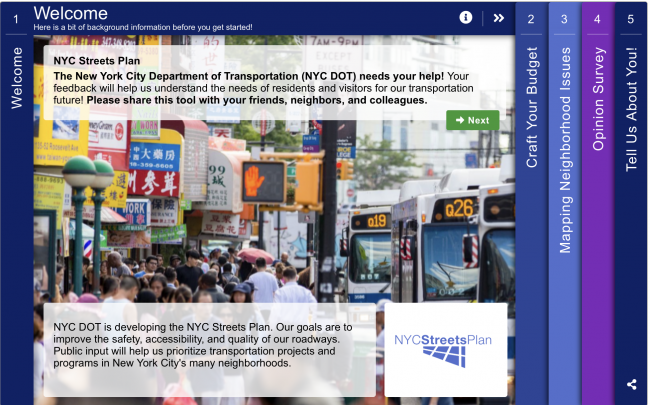 The plan will involve an in-depth analysis of the current state of New York City's streets and respond equitably to the uniqueness of the City's many neighborhoods and local needs. Your input is vital to the NYC Streets Plan. NYC DOT is seeking feedback on your experience on NYC's streets and your ideas on how to make them better via our online survey:
The survey asks you how you would spend your transportation budget, where are the problems in the neighborhood and what are your priorities.
NYC DOT is also conducting a series of virtual public workshops. Each workshop will focus on different neighborhoods and areas of the city, so you may provide insights on the areas you know best. Workshops are open to all interested New Yorkers.
Please register for our area workshop below
Tuesday, July 13, 2021, 6:00 pm – 8:00 pm