Our Chelsea neighbor, Bob Arnold of Park Chelsea shared with us a city initiative called  "Make NYC Your Gym" a week long annual celebration of fitness in June launched by the Parks department and the Health Department with Expanded BeFitNYC   "Free and Low-Cost Fitness" which allows all New Yorkers to create their own fitness events and invite friends to join them.
But what if you are a senior and cannot go a long distance without resting? Walking remain your best alternative with a goal of 10,000 step a day according to AARP. But …most of our communities simply aren't "walker-friendly." …a lack of benches for resting or waiting for public transportation can prevent us from walking regularly.
In that spirit our co-founder, Martin Treat, undertook to identify bench locations that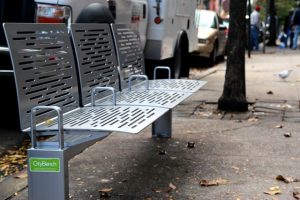 could help seniors walk further with the comfort of knowing that a bench is near to rest if needed.  Here is the list of proposed bench locations that will be recommended at the next CB4 Transportation Committee ( Dec 19th)  You will note that there are no proposed bench on 9th Avenue or on side streets where the sidewalks are too narrow. Let us know if you have other suggestions or concerns  with the proposed locations. Here are Frequently Asked Questions about Citybenches. DOT has already consulted with each property owner and here are the ones they approved.
601 10th Avenue
645 10th Avenue
657 10th Avenue
665 10th avenue
 701 10th Avenue
 735 10th Avenue
662 10th Avenue
646 10th Avenue
Shouldn't our seniors be able to walk, then sit for FREE on our public sidewalks rather than having to pay in order to sit and rest?
"Physical activity plays an important role in both physical and mental health, yet most New Yorkers are not getting nearly enough of it," said Commissioner Farley. "Exercise, even as simple as walking 30 minutes a day, 5 days a week, can reduce your risk of a number of chronic diseases, including high blood pressure, heart disease, stroke, diabetes, some forms of cancer and osteoporosis."