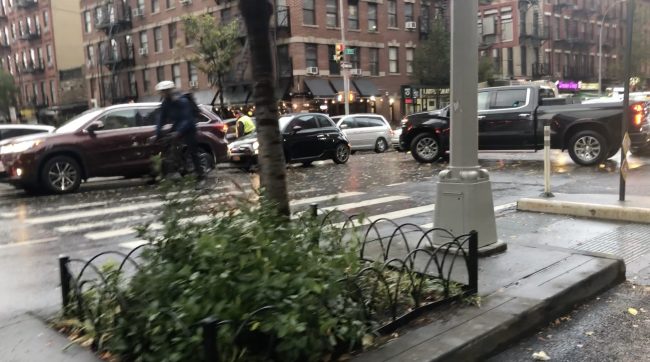 There is way too much traffic violence in our district: five people killed and 500 injured in 2021. On the bright side, this is 44% less deaths and 30% less injuries compared to 2019. The City overall has rising traffic fatalities (+5%). But why should anyone go to work or to school and come back dead or injured through no fault of their own? The Lincoln Tunnel continues to bring chaos every evening.
Earlier this year, after the death of a pedestrian who was crossing a parking curb cut, we obtained that the garage install pedestrian safety features.
DOT completed the W38th Street crosstown parking-protected bike lane. It installed a two way extension from 11th Avenue to the Greenway with Jersey barriers as protection. We also celebrated the calming of the W 57th Street and 8th Avenue intersection. It is now protected for both cyclists and pedestrians.
Open Streets continue to strive with dedicated activists and significant upgrades to the "gate".
DOT took over crash investigations: The City passed a law that makes the DOT, and not the NYPD, the lead agency in investigating crashes, a change long sought by advocates for street safety. The intent is to improve analyses by the Collision Investigation Squad. The NYPD had often been accused of victim-blaming and viewing crashes from a driver's perspective.