Last week was the first of many consultations planned by DOT to capture community wishes on where to install the stations. About 75 residents and workers showed up and the number of tables was increased from 6 to 8. The week before, DOT had held an open house at the Port Authority Bus Terminal , where a continuous stream of commuters visited the stand, tried the bike and showed a lot of interest in this new mode of transportation.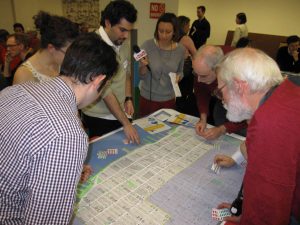 Participants indicated what they plan to use the system for : going to work, going to the park … and then proceeded to indicate which proposed station they like the most , which they do not like and which one were missing. Almost everyone voted in favor of stations in the street or on private property, very few were ready to give up sidewalk space.
CB4 has sent feedback from the Hudson Park Trust, DOT consulted the High Line and the Javits, and the CIC was on site to give their feedback. DOT also walked 9th Avenue from top to bottom with two members of the CB4 Transportation committee to vet the locations.
DOT will come back to the community with a final plan around May 2012, with the goal of going live during the summer of 2012. Hats off tothe DOT for a very thorough Community input process.