Last week, at its full board meeting, Community Board 4 passed two resolutions enjoining Megabus to comply with the law and DOT to develop a plan for Long Distance Buses.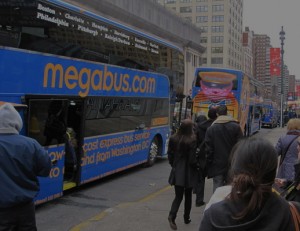 According to the resolution , Megabus' double-decker buses exceed the maximum weight of 36,000 pounds allowed under State Law. The resolution asks that the buses be brought in compliance before being allowed to use new temporary sidewalk terminals in CB4.  The approval for each proposed sidewalk terminal (South side of 41st Street between 8th and 9th Avenues, and East side of 10th Avenue between 40th and 41st Streets) is subject to a 90-day trial and  includes a litany of conditions, all reflecting lessons learned the hard way from the terrible experience at the 9th Avenue installation.
See DNA info article, Long Term Plan, Locations Approval for details.