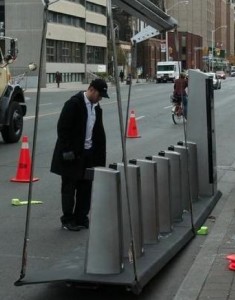 DOT is making the rounds presenting the bike share program. You can see it here. They will soon come back with proposed locations for the stations ( one ever four blocks) and we will be sure to distribute widely.
The stations can be as large or as small as needed. They can also be relocated very easily . On the left you see one being installed. Obviously we will want most stations to be on the street and NOT not the sidewalk..
In the meantime you can click here and propose your favorite locations anywhere in the city: a park you go to, the children's school, the store, the library, your work place, your best friends' place, your main squeeze's,  your mother's place .. as I said , anywhere your feel like .. pretty cool.
Or you can vote for one already there…