This Project is on hold
The Clinton Hell's Kitchen Coalition for Pedestrian Safety (CHEKPEDS), Hell's Kitchen Neighborhood Association (HKNA), Clinton Housing Developement Corporation (CHDC)  and representatives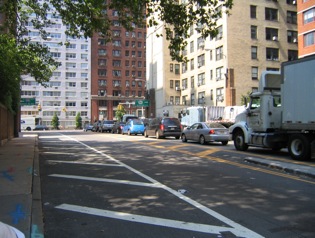 of adjoining buildings and organizations have joined forces to create a 7,000 sq. ft. park by reclaiming unused roadway on the east side of Dyer Avenue (9/10 Av.) between 34th and 35th Streets in Manhattan. We are seeking your help in executing this three-phase project. The first phase will take place in March 2013 and should cost $ 20,000.
Currently on Dyer Avenue, the block between 34th and 35th Streets contains four moving lanes (3 southbound and 1 northbound) and 2 striped buffer lanes. As part of the Select Bus Service (SBS) installation on 34th Street, the New York City Department of Transportation (DOT) asked and the Port Authority of New York and New Jersey (PA) agreed to remove one lane of southbound traffic.  This results in 3 moving lanes of traffic and 3 lanes of buffer .
CHEKPEDS proposed to PA and PA is not opposed considering regrouping the moving lanes of traffic to the West and the buffer zones to the East, creating a significant area that can be converted to park.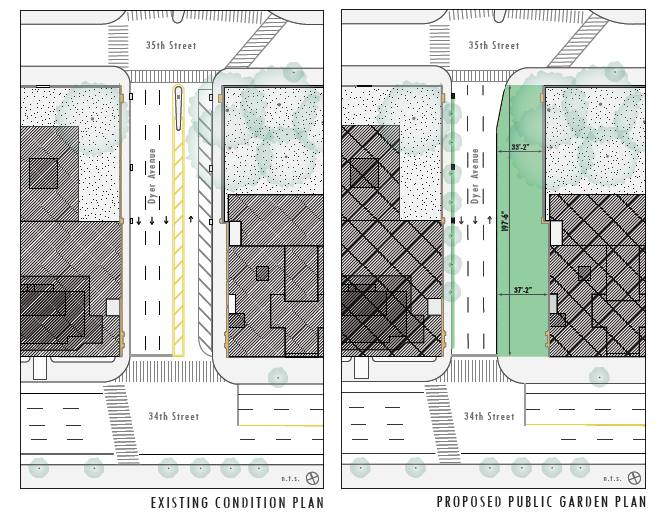 However PA traffic engineers pointed out that the traffic signal island would have to be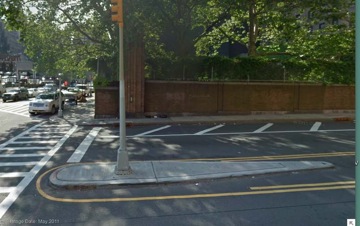 removed to properly align the north bound traffic lane with the next block. Such removal is estimated to cost $ 15 to 20,000. It should take place between March and May 2013, when the traffic lanes are restriped to coincide with the installation of the SBS on 34th Street.
CONTRIBUTE HERE – all donations up to $ 7,500 are matched by a generous donor. You contributions are tax deductible and can be matched by your employer.
JOIN US on January 17th, at (TBA) at the Benefit For Dyer Park. $ 25 minimum or free if you have already contributed.
A community Driven Process:
A Dyer Park Community Advisory Committee was formed to Kick off the project and fund the design. Its members are
Kathleen Treat, Chair Hell's Kitchen Neighborhood Association (HKNA), Public Member of Community Board 4,
Meta Brunzema, Architect, Author of the HKNA rezoning plan and the necklace of parks
Shanti Nagel, Director of Cultivation, Clinton Housing Development Corporation (CHDC)
Barbara Eastman, Chair of 434 West 34th Street coop board
Jeffrey Peyser, Resident of 434 West 34th Street coop Board,
Laura Oaksmith, Resident of 430 West 34th Street, Member of HKNA Board, Public member of Community Board 4
Ed Clow, Resident 430 West 34th Street,
Christine Berthet, Chair of CHEKPEDS, Resident of 38th Street, Chair of Transportation Committee of Community Board 4
Acting Director of St Michaels Parish, at 420 west 34th Street
Ernest Modarelli, Resident of 9th Avenue at 36th Street, Member of Community Board 4.
The committee met three times in a charrette format lead by Meta Brunzema, the architect who designed the HKNA plan and the greening plan of our neighborhood, to create a shared vision and vet the proposal, which is included herein. There will be further and wider community consultation once we get closer to implementation. The park will also draw upon and expose the rich history of this area since 1852 when the area was a farm until the demolition of four buildings in 1935 to make place for Dyer Avenue  .